The Mexican Flag: History And Meaning
Published on
December 5, 2012 at 10:28:00 PM PST December 5, 2012 at 10:28:00 PM PSTth, December 5, 2012 at 10:28:00 PM PST
Just like how the United States Flag has evolved over time with the history of the US, the national Flag of Mexico draws its symbolism from it's history. The flag consists of two parts, the colors (Green, Red and White) and the emblem in the center (an eagle holding a snake).
First the three main colors of the Mexican Flag are clearly Green, Red and White. These three colors have been derived originally from the Flag that was used by the Army of the Three Guarantees. The Army of the Three Guarantees was composed of soldiers and cavalry of the Mexican people in 1821. This was a time of revolution for Mexico, as it sought it's independence from Spain. The three colors represented these three Guarantees which were religion, independence, and unity. The religion it defended was Catholicism. The Independence it defended was from Spain. The Unity was against it's enemies.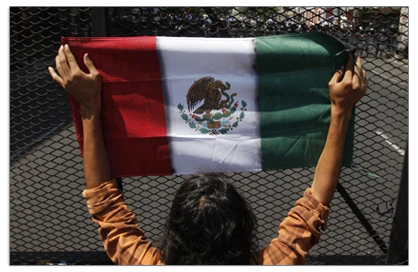 The second part of the Mexican flag is composed of an eagle holding a snake. This symbol dates way back to the period of Aztec rule in the 1300′s through the 1500′s AD. The legend of the Aztec people states that the early Aztec group would one day settle and create it's city in a swampy land and this land would be recognized by spotting an eagle, eating a serpent atop a cactus. Apparently, religious leaders of the early Aztecs came across this sighting in the area that is now known as Mexico City. Mexico City was built in a swampy area as it was originally an island in a lake. The Aztecs settled here and quickly became an extremely powerful and feared empire in a short period of time of about 200 years.
When looking at the Mexican Flag, and much of the symbolism throughout Mexico, it can be quickly noted that current Mexican culture is truly defined by over 500 years of history. The Mexican flag has evolved a great deal over the years, the struggles, revolutions and changes in power are fascinating, and reminiscent of the history of the United States.