Heroes on the Homefront
Published on
November 10, 2015 at 2:52:00 PM PST November 10, 2015 at 2:52:00 PM PSTth, November 10, 2015 at 2:52:00 PM PST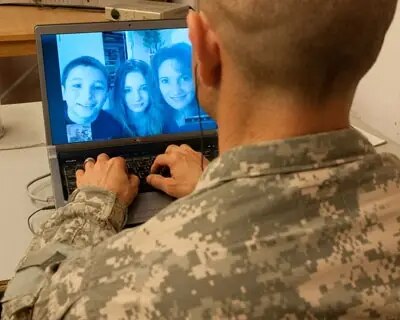 As the rush of the holiday season approaches and many people begin to finalize plans, it's important to remember that some American families will not be together. Football games, family dinners, shopping and parades will take place as usual but America's military families will not share these moments with their family member serving in our Armed Forces. For these families, missing a loved one is a big part of everyday life. The commitment our military men and women make to serve and protect our nation means many will miss countless laughs, hugs and smiles of the loved ones they left at home. For those at home, this absence is equally tough as spouses, sons, daughters and parents must adapt to a new way of life. These families are America's heroes on the Homefront.
November is Military Family Appreciation Month. The month kicks off with the signing of a Presidential Proclamation that declares a month-long celebration of the Military family. In his Presidential Proclamation, President Obama states that "Our troops keep our Nation safe from threats here at home and around the world, and our journey forward is not sustained by those in uniform alone." Military families include many of us: husbands, wives, sons, daughters, parents and grandparents of military heroes who rely on technology and letters to experience the daily moments of life that non-military families take for granted. Mothers who miss a child's first day of school, fathers who can't prepare a child for his or her first ball game, or a brother or sister who misses a sibling's graduation are just a few of the events our military heroes are not always able to experience. Mothers and fathers in the military miss any number of family bonding moments like answering puzzling homework assignments, ordering a pizza on family game or tv night, or simply spending time together as a couple or family. Pictures are worth a thousand words but missed hugs and unseen smiles are priceless moments for which we can never repay our service members. This month marks the time when our nation celebrates those American families who willingly make constant sacrifices --often with little or no complaints. In the words of President Obama, these soldiers and their families are "Demonstrating the highest form of patriotism and persevering in the most demanding of circumstances, some endure hard separations throughout multiple deployments. Spouses press pause on their careers or strive to balance work and family while their loved ones are away. The two million children of service members work hard to keep up their studies and make new friends, despite transferring school systems an average of 6 to 9 times." (Proclamation, President Obama Nov 2015)
During Military Family Appreciation Month and throughout the year, take time to honor the heroes of your community and neighborhood. Many communities and family service offices have scheduled events to honor Military families and their sacrifices. Carrot-Top wishes to thank every military family and each of our service members for their commitment to our nation. Listed below are a few steps we can all take to show our appreciation to our military families:
Volunteer your time. Consider babysitting for a military spouse while he or she shops or just has a bit of "me" Time.
Share your Passion. Spend time volunteering with an organization or program where you and a military family both can participate.
Leave an anonymous care Package at the door. Consider preparing a special care package for a spouse or family or perhaps putting together a movie night with snacks and popcorn.
Listen. Take time to find out what a military spouse may need. Sometimes having someone to talk too makes all the difference. (This article originally appeared in Spousebuzz -- visit Spousebuzz for the latest news and advice about military family life.) Militay.com
Carrot-Top joins President Obama and our nation in expressing our collective gratitude to the nation's military families who make daily sacrifices for our freedom. Though we could never repay our military families for the separation they endure, Carrot-Top seeks to honor them this month and throughout the year. Carrot-Top has a long tradition of providing the highest quality patriotic products and flags. Browse our selection of military items and products for gifts that honor a service member and his or her family. Carrot-Top also supplies products which recognize the contributions of our veterans. Our American flags include the exclusive Patriarch® Polyester American flag and our Beacon® Nylon American flag. Carrot-Top also supplies flags of US States and Cities as well as mini American flags. Give the gift of patriotism with one of our distinctive Patriotic gifts. Carrot-Top salutes all of America's military families and service members. For more ideas on how to show your appreciation of military families or for events in your area, contact your local MWR (Morale, Welfare and Recreation) office or visit Militay.com.

Military Family Appreciation Month: Support Military Families with a thoughtful gift basket idea: A movie night in a tin!
Follow us on Pinterest for more ideas for supporting Military families!