Ohio State Flag History And Design
Published on
March 10, 2021 at 1:57:00 AM PST March 10, 2021 at 1:57:00 AM PSTth, March 10, 2021 at 1:57:00 AM PST
The History Behind the Ohio State Flag Design
Ohio was the 17th state admitted to the Union by Congress on March 1, 1803. As of March 2021, Ohio celebrates its 218th birthday. March's Ohio birthday is also an ideal time to learn more about the history and the design of the state flag.
After achieving its statehood in 1803, Ohio waited almost 100 years before developing a state flag. Then, in 1901, a state flag was needed to fly above the Ohio Building that was part of the Pan-American Exposition (or world's fair) in Buffalo, New York. Architect John Eisenmann of Cleveland, Ohio, fulfilled the need by creating a state flag shaped like a dove-tailed pennant. Bearing homage to the American flag, Eisenmann's color pallet for the Ohio state flag was identical to that of the American flag. Eisenmann's unique Ohio state flag design featured: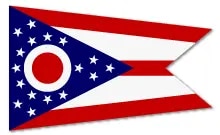 Three red stripes and two white stripes symbolizing the state's roadways and waterways.
A large, blue triangle positioned on the left, flag-hoist end of the flag.
A large white circle, with a smaller red circle centered on top of the large white circle. Having the red circle placed both inside and on top of the white circle gave the white circle the appearance of being an uppercase "O," representing the first letter of the state name. The layered, red and white circles are positioned in the center of the blue triangle.
Thirteen white, five-pointed stars were positioned inside the blue triangle and surround the white "O." The 13 stars symbolized the 13 original states in the Union.
Four more white, five-pointed stars were positioned inside the blue triangle and to the right of the white "O." These four stars, when added with the other 13 stars, symbolized that Ohio was the 17th state to be admitted to the Union.
A fly end that included a trio of triangular shapes. Those triangular shapes, in addition to the blue triangle on the fly end of the flag, were symbolic of the state's hills and valleys.
As a couple of Ohio state flag fun facts, Ohio is the only state to have a flag that is not rectangular in shape. The Ohio state flag's dove-tailed pennant design is technically known as a "burgee" in nautical terms. In addition, the Ohio state flag was first flown in 1901 at the Pan-American Exposition – several months before its design was officially approved by Ohio legislators on May 9, 1902.
The Ohio state flag design has remained unchanged since its inception in 1901 and its adoption in 1902.
Ohio Outdoor Flag Options
Show your state pride by displaying your own Ohio state flag. Carrot-Top Industries' outdoor Ohio flags are made in the U.S.A. and come in two of Carrot-Top's exclusive fabric brands: Patriarch® polyester and Beacon® nylon. These flags are expertly crafted with unsurpassed quality by the most experienced flag makers in the industry. Our flags feature fade-resistant colors, durable fabric and fray-resistant stitching. Both the Patriarch® polyester and the Beacon® nylon outdoor Ohio flags are digitally printed with a single reverse finish. Backed by the flag industry's best six-month guarantee, we are committed to your satisfaction. Our guarantee covers any defects, fading or tearing, starting on the date of purchase.
Our Patriarch® Polyester Ohio state flags are built with a super-strong, two-ply polyester that has the texture and feel of cotton. These flags are best for coastal zone locations and areas that frequently experience severe winds. Our Patriarch® Polyester Ohio state flags are available in a variety of sizes from 3' x 5' to as large as 5' x 8'. Our Beacon® Nylon Ohio state flags are tailored with tough, durable, lightweight nylon that dries quickly and waves beautifully in the air. These flags are designed for low and moderate-wind areas and are available in sizes from 12" x 18" to 8' x 12'.
Ohio outdoor flags, indoor flags, flag sets, flag banners and mini flags are available for order online. To determine the best outdoor flag material for your location and flagpole, please call 800-628-3524 to speak with a Customer Care Professional. You can also submit any questions about your flag order by email or schedule a convenient time for a consultation through Contact Our Team. We offer fast shipping on all of our in-stock products.
Online References: Encyclopedia Britannica,Ohio History Central and Ohio Secretary of State Website
Email us at marketing@carrot-top.com to share your comments or questions about this blog. You may also email us if you have a topic you would like us to cover or are interested in submitting an article as a guest writer.