Rock the School Year
Published on
August 11, 2015 at 3:23:00 PM PDT August 11, 2015 at 3:23:00 PM PDTth, August 11, 2015 at 3:23:00 PM PDT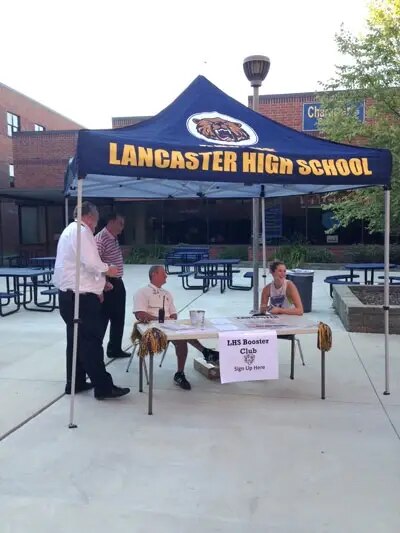 As Principal Smith stood at the main entrance of his high school he anticipated the flood of students on the busses pulling into the parking lot. He began to mentally review his check list. The teachers have arrived. Coach says this year's team looks strong and they are sure to make it to the district playoffs. The school has never looked better. Maintenance installed a beautiful U.S. flag on the flagpole this morning and the custom Waterhog entrance mats, with the school's mascot, look great inside the double doors. Newly installed signs line the walls to help guide lost freshmen to their homeroom and visitors may easily identify the main office. The auditorium is ready with our new custom achievement banners and the (PTA) Student Council was able to get a new custom tent and table throws to continue their fundraising efforts at all school and community events. This year will be a success!
For administrators and school leaders the beginning of the school year marks the active phase of their responsibilities to students, faculty, staff and parents. It is their job to make the transition into the school year smooth and seamless. They must turn the empty hallways, vacant classrooms, abandoned cafeterias and unoccupied athletic fields into a community space where every student may flourish and succeed. For more than thirty years, Carrot-Top has supported educational leaders with products that help transform empty buildings into epicenters of learning and positive social interaction.
Carrot-Top breaks the mold with its expertise in crafting items that help schools brand their identity and create an atmosphere that encourages learning and school spirit. We have outfitted high schools and college campuses across the nation with everything from sponsorship banners for sporting events to U.S. flags and State and City flags for courtyards and front entrances. Carrot Top cares about schools and provides the best quality products that allow them to build an on campus community.
"The custom mats are stunning!! We have received soo many nice comments on them. Thanks for doing a great job."(C. Freeman, St. John's Catholic School)
Our team of graphic artists and customer service representatives work tirelessly to ensure that every school and every customer is both satisfied and pleased.
"I am not sure which is better, the top rate customer service or the high quality products. Carrot Top has done a wonderful job for us here." (Ryan Tressel, High Point University)
Our custom banners, signs and flags don't simply beautify campuses, but rather they create an atmosphere where student and parents feel safe and comfortable. Our custom products don't just guide student movement from one building to the next, but they also cultivate school spirit and pride which foster a greater sense of belonging. Years after students have gone on to other schools or perhaps even started their careers, it will be those feelings of community--surrounded by friends and good teachers-- that most will remember and cherish. We are at schools for very short periods of time in the grand scheme of our lives but the moments we do spend there create a lifetime of memories.
As an educational leader creating your checklist for the first weeks of school, reach out to one of our expert customer service representatives to talk about our school branding solutions. With our experience and vast product knowledge, we will help you choose the items that will create a successful first quarter that will last the whole year. Let Carrot-Top help give your students the environment where they may be the best they can be.