Veterans Honored in Small-Town Texas
Published on
May 19, 2017 at 6:14:00 PM PDT May 19, 2017 at 6:14:00 PM PDTth, May 19, 2017 at 6:14:00 PM PDT
High on a hillside, a 760-square foot United States flag flies over Teague Park in Longview, TX. The flag overlooks a tranquil pond and fountain, picnic areas, barbecue grills, a hike-and-bike trail and an amphitheater where families enjoy live music in this sleepy East Texas town. There's more to see in Teague Park than just that, however.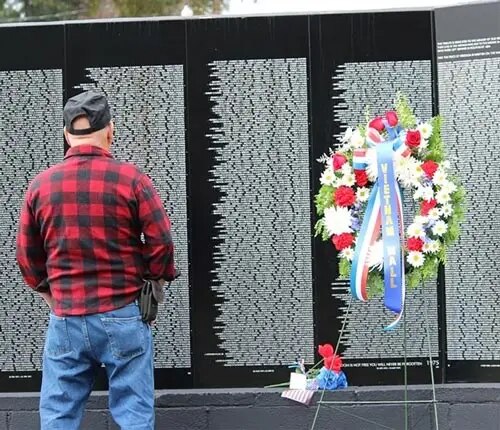 Several years ago, members of the local American Legion branch thought about the lack of any sort of memorial or remembrance of veterans in their area, and decided they should do something to remedy that.
They worked together to form the Veterans Recognition Foundation, a nonprofit group chartered to bring honor and recognition to area veterans. In 2015, their shared vision became a reality with the Veteran's Plaza in Longview's Teague Park. The Veteran's Plaza includes an exact scale replica of the Vietnam Memorial Wall in Washington, DC, with the names of all 58,307 soldiers who died in that conflict.
Its installations pay tribute to all veterans from all generations, with more than 20 monuments and engravings that honor sacrifices made in places like Iwo Jima, Korea, Iraq, Grenada, Panama, Somalia, Afghanistan and Bosnia, as well as special tributes to MIA/POWs, women who served, sacrifices made on the home front and even military working dogs.
"Here where I live for Memorial Day we don't have any parades like they do in bigger cities such as Dallas or Houston," said Legion member Carl Conkling. "Last year I was asked to present the Memorial Day Wreath during the Memorial Day Ceremonies and I've been asked to do so again… [on our website] you can find information on how to have [a veteran's] name engraved on the wall."
As Conkling pointed out, any veteran who served in the U.S. Armed Forces can become part of the Veterans' Plaza with a Tribute Brick. Bricks will not be used on walkways or on the ground.
Like the memorials in Washington, D.C. that inspired them, Veteran's Plaza's wall and dignified black obelisks don't honor or glorify war – they honor the warriors. There's no judgment passed on the rights or wrongs of war; instead, it's intended to create a space where veterans, their families and others can reflect. It's hoped that members of the community will use this peaceful space to gain a better understanding and appreciation for the sacrifices that gave us our freedom.
At Carrot-Top, we're proud to have been part of this effort. We encourage you to browse our website for flags, grave markers, patches and other products that pertain to veterans, or just join our email list in the subscription box at the bottom of this page to keep up with specials and other offers.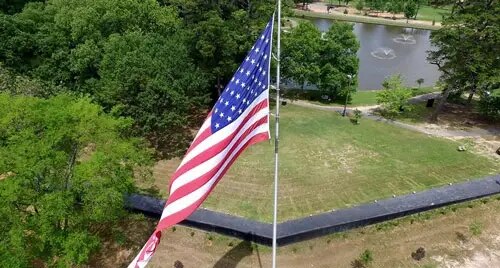 Photos via: Veterans Plaza, Longview News-Journal