The Presidential Inauguration
Published on
January 24, 2013 at 10:11:00 PM PST January 24, 2013 at 10:11:00 PM PSTth, January 24, 2013 at 10:11:00 PM PST
This weekend we celebrated one of America's greatest events, dating back to the first President of the United States, the Presidential Inauguration. By law the President must be sworn in on January 20th so the President and his family had a private ceremony in the blue room of the White House on Sunday. On Monday there was a public swearing in ceremony, particularly significant because it fell on Martin Luther King Jr. Day.
The public ceremony themed "Faith in America's Future" summed up what MLK, Jr. represented. Despite whom you may have voted for in November or party you associate yourself with, the Inauguration is a time for all Americans to celebrate. Dating back more than two hundred years, the Inauguration has been a right of passage for Presidents and also been a way to show the struggle, resilience, and growth of America. Just to paint a picture here are a few historical moments of past Inaugurations and how they shape what we see today.
Dating back to the first President, George Washington, we had our first Inaugural ceremony on April 30, 1789. Four years later at his second Inauguration, George Washington gave the shortest address, using just 135 words. Other Inaugural firsts:
1797 President Jefferson - first Inaugural address printed in the newspaper.
1925 President Coolidge - first Inaugural address broadcast by radio nationally
1945 President Truman - first Inaugural address to be televised
1997 Bill Clinton - first inaugural ceremony broadcast live over the internet
2012 President Obama - first President to tweet during the Inaugural ceremony
Let us answer the call of history, and carry into an uncertain future that precious light of freedom. —President Obama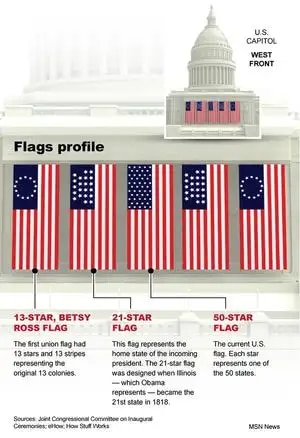 The 2013 Inauguration took place at the West front of the Capitol. Hanging in the backdrop were five American flags, on the outer edge hung a pair Betsy Ross flags representing the first 13 colonies. The inner pair of flags were 21 star flags representing Illinois, the home state of President Obama, Finally the center American flag with all 50 stars represents our national unity. Here is a great infographic from MSN news.
Those weren't the only stars to see at the Inaugural ceremony. Kelly Clarkson performed "My Country Tis of Thee" , Beyonce performed "The Star Spangled Banner", and James Taylor performed "Fire and Rain".