Top 5 Reasons To Buy Entrance Mats
Published on
December 17, 2019 at 8:55:00 PM PST December 17, 2019 at 8:55:00 PM PSTth, December 17, 2019 at 8:55:00 PM PST
1. Increase Cleanliness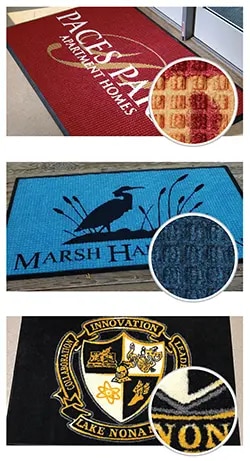 Entrance mats are the first line of defense in stopping dirt and moisture from entering your building. We offer different types of mats based on where they are placed and how they are used. For example, we offer Exterior Scraper Mats to provide aggressive scraping action to stop mud and dirt from tracking inside. For the Inside Entryway, we carry tough fabric Scraper/Wiper Mats, which provide added scraping and wiping action and further prevent moisture and dirt from entering your building. Finally, for Interior Mats, we offer carpet Wiper Mats to stop any remaining dirt and moisture while complementing your interior décor. Less dirt and water tracked onto floors makes a good impression, keeps floors looking brand new, and lessens time and money spent cleaning.
2. Improve Safety
Keeping dirt and moisture off of your office floors is the easiest way to prevent slips and falls in your building. Entrance mats help avoid slippery floors and improve safety for employees and visitors. Our quality mats come with rubber backing, which resists curling and cracking, keeping them in place and preventing tripping. In addition to entrance mats, we also offer anti-fatigue mats that alleviate lower back, leg, and foot fatigue and ease the rigors of standing up all day. These mats are suitable for use at stand-up desks, provide hours of comfort for those who stand a long time, prevent employee injuries, and decrease sick days employees use due to back, leg, and foot injuries.
3. Show Brand Pride
You can provide an inviting and clean entrance using a combination of custom and stock mats. We offer a variety of mat textures and colors for your entry needs that will match your décor. We can even customize your mats with your logo, image, or message to improve your brand recognition and exposure. Let our expert graphic designers help create a unique look for your entryway. We have 40 years of experience creating custom product solutions for schools, government agencies, institutions, and businesses across America.
4. Provide Visual Presentation
Our durable indoor and outdoor mats will last for years and are ideal for a variety of building entrances with heavy visitor and employee traffic. First impressions matter to visitors, and a pleasant entrance improves employee morale. To see samples of our entrance mats and how to submit a request for custom entry mats, please take a look at our Entrance Mat Gallery at /mat-gallery
5. Save Money
Owning your entrance mats is less expensive over time vs. renting them. In addition, owning your mats offers tax incentives which adds up to equity and depreciation deductions. Plus, owning your mats gives you total control over your mat color, design, material, and quality. This flexibility in choices offers you an affordable way to customize your building entryway just the way you want it. Using entrance mats also helps save money by reducing time and money spent on cleaning costs. Our Customer Care Professionals (800-628-3524) want to help you find the best entrance mat solution for your unique setting. You can even schedule a convenient time for an Entrance Mat consultation through our "Contact Our Team" online form (/contact-us).