Wake Forest Fire Department: Heritage, Honor And Tradition
Published on
January 13, 2014 at 2:17:00 PM PST January 13, 2014 at 2:17:00 PM PSTth, January 13, 2014 at 2:17:00 PM PST
When a volunteer fire department was first organized in Wake Forest in 1922, no one gave any thought to having a fire department flag. However, over 90 years later, that volunteer unit has become the Wake Forest Fire Department, serving the town and surrounding rural populations with four fire stations. To celebrate and commemorate their rich history, they approached us to design and produce their first ever fire department flag, to be carried by their honor guard. At Carrot-Top Industries, we take the responsibility of creating a flag very seriously and we wanted to honor the sacrifice members of the Wake Forest Fire Department make to their community with a flag they would be proud of.
Lieutenant Justin Brown reached Kelly, one of our experienced customer service representatives, with less than four weeks until he needed the custom flag in his hands for the Honor Guard. The design he provided was accompanied by a detailed explanation of its significance. Their simple design featured the department patch, black and gold colored horizontal stripes and a rich red background.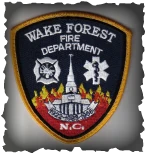 The patch is centered on the flag with utmost importance. The Maltese cross in the patch represents charity, loyalty, gallantry, generosity to friend and foe, dexterity of service and protection of the weak as well as those who previously carried the insignia. The Star of Life in the patch stands for the medical service personnel and represents their functions including detection, reporting, response, on scene care, care in transit, and transfer to definitive care. At the center of the patch is Binkley Chapel which has served as the icon for the town and residents since 1958. Directly below Binkley Chapel are three important dates; 1922, when the town fire department was established; 1955, when the rural fire department was established; and 1983, when the two departments merged to protect the entire community.
Lt. Brown explained the rich red background represents the fire service in its entirety. The black and gold stripes pay homage to the colors of Wake Forest College which called Wake Forest, NC home from 1834 to 1956. The bold gold border represents the seven core values of the department; duty, honor, pride, family, integrity, professionalism and courage.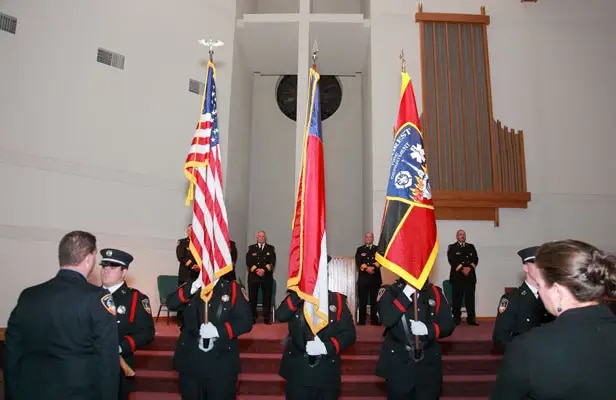 Since completing the honor guard flag, Wake Forest Fire Department has placed orders for multiple 3'x5' and 4'x6' digital custom flags with the same design to be flown at each of their four stations. We are happy to have provided many products like our commercial grade flagpoles, American flags, custom table throws, and other parade items to them over the last twelve years.
The Wake Forest Fire Department knows the strength of tradition and states on their website, "It is easy to say that each and every person is affected by one or more traditions in their life. The fire service is no different. From the color of our fire trucks to the design of our patch, tradition is a major part of the Wake Forest Fire Department and the fire service as a whole. From the moment that a "rookie" joins our family they are introduced to the many traditions we live by."
"Carrot-Top Industries sets the bar very high for anyone who would want to compete in their market. We as the Wake Forest Fire Department couldn't be happier with their products and wonderful customer service. Kelly is a wonderful Customer Service Representative, and a pleasure to work with. Customer service is what the fire department is all about and we believe strongly in it. Great customer service is what we received. Thanks to all at Carrot-Top Industries for a job well done and for striving for excellence, it is obvious you all won't settle for much less. We look forward to working together much more in the future." Thanks, Lt. Justin Brown
Carrot-Top strives to creatively preserve the traditions, honor, and pride each customer wants for their branded products. With over 30 years of experience working directly with cities, schools and businesses across the nation, we have become one of the industry leaders providing innovative branding solutions that command recognition and support. Our experienced graphic artists and customer service representatives are always up for a challenge and are standing by to assist you with your next project. Call 800.628.3524 today and get started!