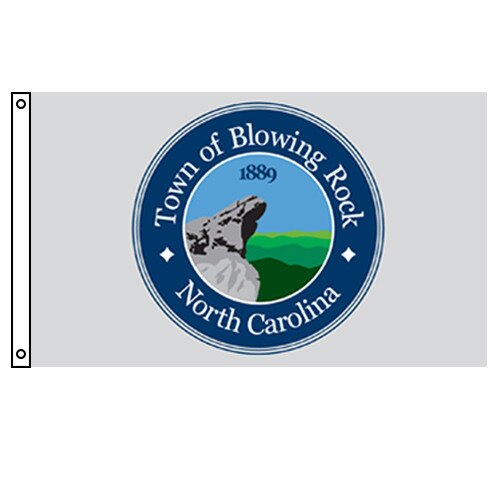 Details
Blowing Rock, NC flags are fashioned with Carrot-Top's high standards of craftsmanship and quality. These nylon flags look amazing in almost any location.
Crafted with premium, 200 Denier Nylon
3'x 5' size fits most flagpoles
Finished with a strong canvas header and solid brass grommets
Made in the U.S.A.
Blowing Rock, NC flags are made with the superior materials and robust colors. These strong and sturdy nylon flag create beautiful displays that show off the breathtaking and unique views the town offers. Blowing Rock is located at the crest of the Blue Ridge Mountains and is named for an actual cliff that offers a particularly spectacular view. The town of Blowing Rock is the home of an immense cliff that stands 4,000 feet about sea level and overhangs the John River Gorge 3,000 feet below. The rocky walls of the gorge form a flume where northwest winds blow through with such force that it returns light objects cast over the void. Our Blowing Rock flags feature brass grommets that allow for easy attachment to and removal from your flagpole. These 3'x 5' town banners are built to last and are designed for outdoor use. These lightweight flags fly effortlessly in the slightest breeze. For more information about Blowing Rock, NC or the history and design of its flag contact the City of Blowing Rock.
Shop Carrot-Top' s extensive array of patriotic, special event and custom-made products that will not only create great displays but may also serve your business, organization, school or community. Our custom items include everything from street banners and signs to flags and tents that may be customized with your business, school or organization's logo, photo or design. Pair your Blowing Rock flag with our and of our superior US State and City flags and our fine American flags. Support North Carolina's college and Universities with our NCAA college sports flags of schools such as UNC, ECU, Elon, and Wake Forest. Carrot-Top also fashions Major League Baseball team flags as well as NFL team flags. For more information about the products and services Carrot-Top provides, please fill out our contact us form and one of our Customer Care Representatives will reach out to you promptly.