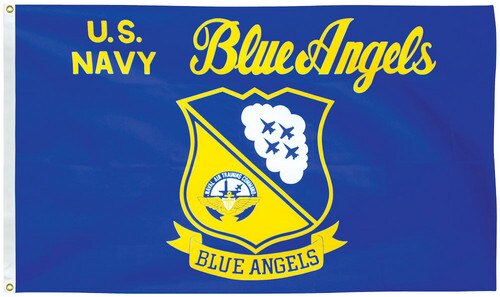 Blue Angels Flag - 3X5' Endura
Details
Made of durable polyester, our 3x5' Blue Angels flag is a great way to show your honor and support. As part of the United States Navy, the Blue Angels are represented by this flag design with the bright royal blue background with the current yellow and white design. This flag is imported. To order this flag, please enter your desired quantity and click "ADD TO CART". For more information on our Blue Angels flag, please see our description tab below.
Our 3x5' Polyester Blue Angels flag design is similar to but slightly different than the 1949 original insignia created by then team leader, Lieutenant Commander R.E. "Dusty" Rhodes and Illustrator for Naval Air Advanced Training Command, Virginia Porter. Through several modifications over the years, the design has changed slightly, but the meaning and importance of the Blue Angels flag will always and forever be the same. Honoring those who are current Blue Angels and remembering those who were former Blue Angels, our strong and sturdy polyester is sure to withstand the heavier winds and harsher weather environments.
In addition to the Blue Angels flag, we offer several different Navy products including Seabees flags, the First Navy Jack and many different Navy patches. Browse through our entire collection of military and memorial products including Support our Troops merchandise, POW/MIA products and grave markers to immortalize fallen heroes. Carrot-Top Industries is always proud to offer our American made United States, State and Military flags for each of the 5 major branches as well.
For more information about our flags mentioned above or for flags you may be looking for but do not see online, please fill out our contact us form and one of our Customer Care Representatives will be in touch with you!