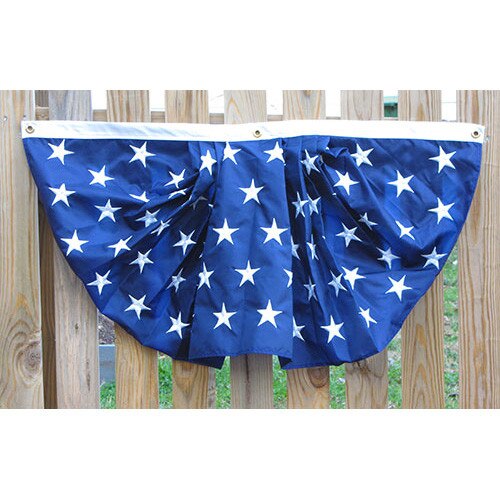 Blue Fan With Stars - 1.5' X 3'
Details
Our blue fan bunting with stars is a wonderful slice of patriotic décor for your next 4th of July, Veterans Day, Memorial Day or Presidents' Day celebrations or any other patriotic event. Our patriotic fan bunting is perfect for decorating home, office, school, building or stage. Our blue flag bunting features an 'Old Glory blue' field with embroidered white five pointed stars. 'Old glory blue' is the same blue used in American flags. The fan bunting is made of durable nylon for continued use in most weather conditions. For more information about our blue fan bunting with stars see the description tab below.
The blue fan with stars is the perfect touch to display your spirit of patriotism. Created from our 200 Denier nylon, the blue fan with stars is specially crafted and designed for use in either indoor or outdoor display. The blue nylon bunting is a durable, long lasting material that allows you to showcase an authentic Americana style without any worry of fading. The blue fan with stars features a solid header and three brass grommets along the top for easy attachment to windows, poles, stages or porches. The blue fan with stars has a timeless appeal and may be used for a modern or an antiqued look. Special pleating and reinforced stitching allows for continuous use which prevents fraying. The blue fan also features beautifully embroidered stars and reinforced stitching.
Carrot Top also offers a broad array of patriotic goods and products to help complete your look. Give your 4th of July, Memorial Day or President's Day a classic look no one will ever forget with our exclusive Beacon® nylon American flag or our original Patriarch® Polyester American flags. Carrot Top also provides State flags. Consider complimenting your American and State flags with our patriotic street banners for your city or town. Our superior flags and banners are timeless and well suited for display throughout the year. To find out more about our pleated fans or any of the products seen on this website please fill out our contact us form and one of our Customer Care Representatives will reach out to you!