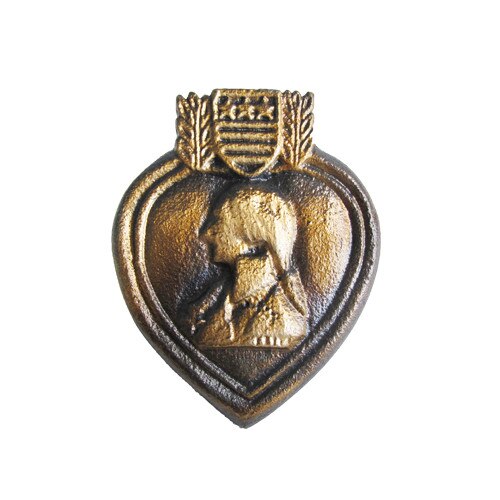 Bronze Insignia - Purple Heart
Details
Our solid bronze Purple Heart Insignia provides a strong and impressive decoration for the cemetery display of any member who has received a Purple Heart for their service in the United States Military. Proudly made in the U.S.A., this bronze insignia is cast to withstand most weather elements and provide a long-lasting symbol of honor and respect for the recipient of this distinguished medal. Please note: The provided screw will be inset within the insignia and will require a 1/8" Allen Wrench (not included) for proper adjustment and installation. For more information, please see the description tab below. To order, enter the desired quantity and click the "Add To Cart" button.
This Purple Heart Insignia offered through Carrot-Top Industries is made of solid bronze and is fashioned to last for years to come. The perfect addition to our Bronze Grave Markers, our Purple Heart Insignia is certain to provide an honorable and distinguished look to the graveside display for your loved ones. The Bronze Purple Heart Insignia measures approximately 2 ¼" in width with a height of 2 ¾".
The Purple Heart Medal is awarded, in the name of the President of the United States, to any member of an Armed Force or any civilian nation of the United States who, while serving under knowledgeable authority in any capacity with one of the U.S. Armed Services after April 5, 1917, has been wounded or killed, or who has died or may have passed away from injuries sustained while serving after being wounded.
Carrot-Top Industries also offers the bronze insignias for Military Branches, World War I & World War II and POW. In addition to bronze grave markers and insignias, cemetery marking flags for the Military branches are available as well as the United States flag. The Military Branch and United States flags are available in many sizes and styles which are also made in the United States.