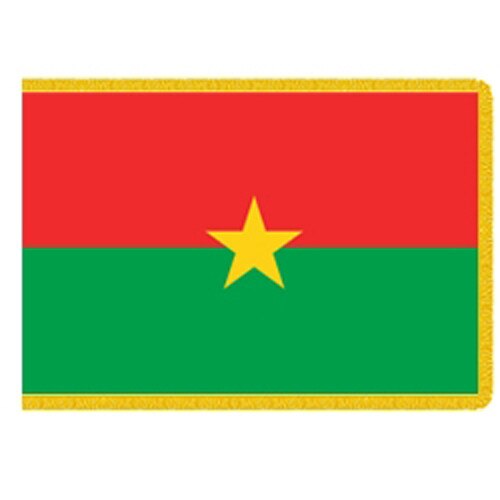 Details
Our Indoor Burkina Faso flags are made of nylon and can fit all of our indoor flag poles and flag pole sets. These flags are designed for long term use in official, professional and casual flag displays. They are fitted with a gold fringe to accentuate the colors of the flag.
The indoor Burkina Faso flag measures 3'x5'. To order a Burkina flag enter the number of units desired and click on the "Add to cart" button. For more information about these flags see the description tab below.
Buy one of our indoor Burkina Faso flags for a distinct indoor flag display. These flags feature the official design of the national flag of Burkina Faso in vivid and fade resistant colors printed on a solid nylon fabric. Nylon flags are widely regarded as extremely flexible flags that are light and have a slightly shiny finish. These indoor flags are complete with a lined pole sleeve which accommodates our indoor and parade flag poles with ease. The flags can be easily attached to any indoor flag pole by sliding the pole in to the sleeve and come with a rayon gold fringe that runs along the outer three sides of the flag.
The Indoor Burkina Faso flags are designed with the flag divided horizontally in to two sections. The top half of the flag is colored in red and symbolizes the revolution and the obstacles the people of Burkina faced to earn their freedom. The lower half of the flag is colored green to represent the natural beauty of Burkina Faso. In the center of the flag is a five-pointed yellow star to symbolize the guiding light of revolution.
See our outdoor Burkina Faso flag and our entire collection of International Flags. Pair a world flag with one of our indoor flag poles and pick out the perfect indoor flag pole accessories to complete your flag display. See our outdoor residential flag poles and commercial flag poles for all-weather displays. We supply a wide range of American flags, custom products, military flags and many property and event management solutions. For more information please fill out our contact us form today!