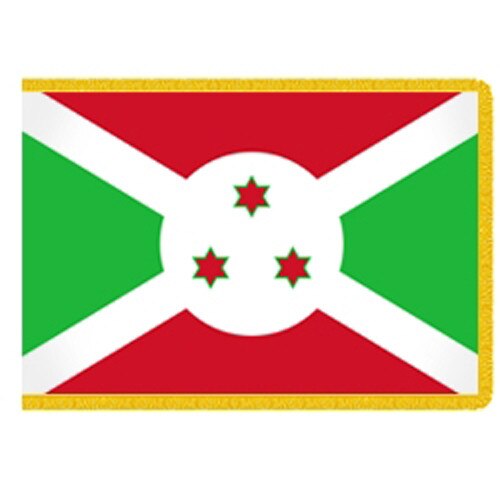 Details
The indoor Burundi flag features the official design of the national flag of Burundi
Made of durable nylon material
Indoor Burundi flags come with a fitted gold fringe and pole sleeve.
Flags can be attached to any of our indoor flag poles
Measures 3'x5'
Our indoor Burundi flags are great flags for a professional or official flag display. These flags feature a rich golden fringe that runs along three sides of the flag. The hoist end is not covered as not to interfere with the flag pole. These flags are made for long term displays using heavy duty nylon fabric. Nylon is ideal for long lasting flag displays. These indoor Burundi flags retain color well and can be used in continuous displays for months on end.
Our Burundi flags feature the official design as dictated by the law in Burundi. The flag features a white background with four triangles on each side. The ones on the sides are green while the other two are red. The green triangles represent hope and peace while the red triangles represent the country's struggle for independence. The white space in between the triangles makes up St. Andrew's cross to represent peace. In the center of the flag is a white circle with three six pointed stars. These stars are said to represent both the three main ethnic groups in Burundi and the country's motto "Unity, Work, Progress".
See our outdoor Burundi flags for an all-weather flag display fit for any location. We have international flags from all corners of the world. See our indoor and parade flag poles as well as our entire flag pole collection to find a pole to display your flags on. We also carry indoor flag pole accessories and outdoor flag pole accessories ideal to finish your flag display. Shop our range of American flags, custom products, military products and see our impressive event management solutions. For more details and information contact us via our contact us form today!