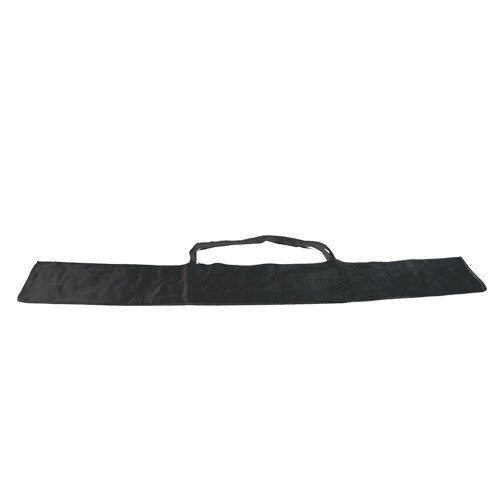 Carrying Bag For 9' Super Pole
Details
This Carrying Bag for the 9' Super Pole is a great additional accessory that helps to extend the life and look of your Super Pole set.
Lightweight yet durable material adds a level of protection from dust and dirt while stored
Complete with handles for easy transportation
Solid black color blends nicely with most décor to reduce visibility
Measures 7 ½" in width and 5' 3 ¼" in length
Ideal for our 9' Black Super Poles, this carrying bag affords you the ease of transporting your pole hardware from one event to the next as well as protection for outdoor elements and indoor dust and debris. Complete with a handle on each side and a middle zipper closure, this bag also includes three (3) pocket sleeves and one (1) pocket with Velcro closure, which is ideal for secure storage and transporting of the Rotating Ground Spike used for in-ground installation and display.
Along with Super Pole kits, flagpoles and coordinating accessories, Carrot-Top Industries also offers Advertising flags available in solid color Feather & Flutter styles and message styles as well as providing the opportunity for you to create your own flag with our custom flag options. For a patriotic theme, we also offer a wide range of Patriotic Attention Flags with a modern shape without losing the honored tradition of our great Red, White & Blue. For your tried and true, 100% American-made flag display, our outdoor United States Flags are an affordable yet top of the line option and are available in our exclusive Beacon® Nylon, for light to moderate wind areas, and our Patriarch® Polyester which is ideal for more extreme weather environments. For more information, please fill out our contact us form and one of our Customer Care Representatives will reach out to you!