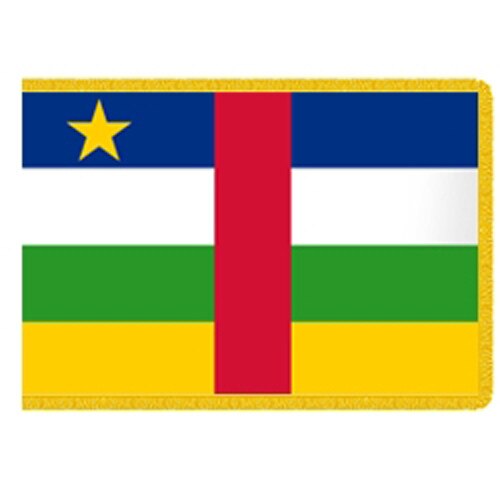 Indoor Central African Republic Flag
Details
Indoor Central African Republic flags feature the official design with a gold fringe running along three sides of the flag.
Flags are made of durable nylon
Can be attached to any indoor or parade flag pole
Flags measure 3'x5'
Indoor Central African Republic flags come with a fitted gold fringe made of rayon material to provide a professional and sleek looking flag display ideal for official settings. These flags are built for extended displays and are capable of lasting several months even in continuous displays. The flags are fitted with a lined pole sleeve that allows it to be placed on an indoor flag pole of your choice.
The indoor Central African Republic flag features a unique design with the main body of the flag divided in to 4 horizontal stripes. The top stripe is blue followed by a white stripe, a green one and finally a yellow stripe. In the middle of the flag is another vertical stripe colored in red. On the blue stripe towards the top left of the flag is a yellow five pointed star.
See our outdoor Central African Republic Flags and our mini Central African Republic flags to find more options. Pair an indoor flag with any of our indoor and parade flag poles for a complete flag display. Our outdoor commercial poles and outdoor residential flag poles are also ideal for all-weather displays with suitable flags. Carrot-Top Industries is one of the largest American flag suppliers in the country and offers a wide selection of custom made products. Browse our property management items as well. For more information please fill out our contact us form today!