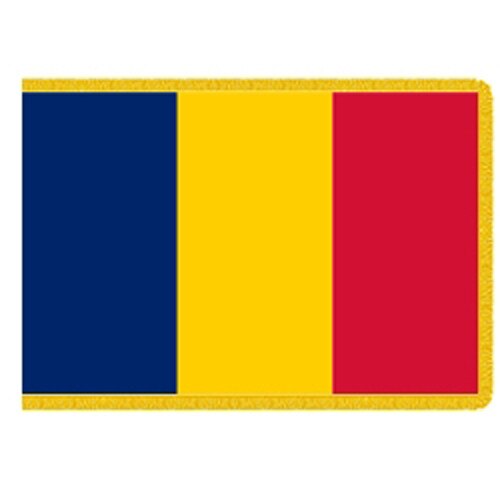 Details
The Indoor Chad flag is ideal for use with any of our indoor flag poles and comes with a fitted gold fringe.
Designed for long term displays
Fitted with a lined pole sleeve that can accommodate any indoor pole
Ideal for professional and official flag displays
Measure 3'x5'
The indoor Chad flag is ideal for use in official settings and government buildings. These flags are ideal for both indoor and parade use and come with an ornamental gold fringe. The gold fringe makes the flag more vibrant and catches the eye of people passing by. These flags can be paired easily with our indoor and parade flag poles and indoor flag accessories to create a beautiful and unique flag display set.
The indoor Chad flag is printed with the official flag design. The design features three equally sized vertical stripes. The left stripe is colored blue and is said to represent the sky which is also seen as a symbol for hope. The middle stripe is yellow to represent the desert and sun of Chad, a major percentage of the country's land mass is situated in the Sahara desert. The final stripe is red and stands for the important virtues of unity, progress and sacrifice.
See our outdoor Chad flags and the mini Chad flags for more display options. Carrot-Top industries also provides a large variety of outdoor commercial flag poles and outdoor residential flag poles. Our range of American flags is unmatched and our custom products are of the highest quality. Browse through all of our world flags to find more African country flags and flags from all over the world. For more details please fill out our contact us form today!