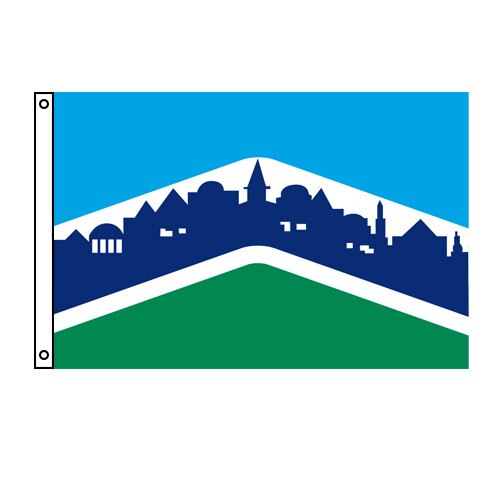 Details
The Chapel Hill, NC flag visually represents the Orange County, North Carolina town with stylish beauty in blue, green and white colors.
Finely woven strong, yet lightweight, nylon
Convenient 3'x 5' size, with solid brass grommets, easily fits most flagpoles
Digitally imprinted design using dye sublimation process features bold, vibrant colors
Finished with Strong canvas heading and brass grommets, designed for outdoor use
Proudly made in America
The Town of Chapel Hill, NC Flag is a custom crafted flag tailored with the premium nylon, intricate stitching and fine materials. This town banner appears to almost glisten in the sunlight and its lightweight construction allows it to wave beautifully in the slightest breeze. Images are displayed with sharpest colors and the highest resolution. Our custom city flags are built to last and will show off your hometown pride with style for years to come. These flags are not intended for use in high wind environments.
Chapel Hill, NC is the home of the University of North Carolina and is one of the corners of the Research Triangle Park along with Raleigh and Durham. The town flag displays an inverted chevron pattern with a wide blue upper field, a white chevron band and green below. A silhouette of the city is pictured on the white chevron. The town sought a flag that combined the characteristics of hopefulness, an academic achievement, diversity, vitality, progressiveness, community mindedness and environmental awareness. Blue represents the Town and University while green signifies environmental awareness and the townscape. The Chapel Hill Flag is thought to provide a sense of home, friends and community. For more information about Chapel Hill or the history and design of the Chapel Hill flag contact the Town of Chapel Hill.
Carrot-Top offers a broad range of items that showcase your patriotism and pride. Our American flags are the finest available and include our exclusive brands the Patriarch® Polyester American flag and the Beacon® Nylon American flag. We also feature flags of US State and Cities, Major League Baseball and NFL team flags and NCAA College sports flags. Carrot-Top is your one stop for everything flag related. Our flags show off your patriotism and pride. For more information about any of our products and services please fill out our contact us form and one of our Customer Care Representatives will reach out to you promptly.