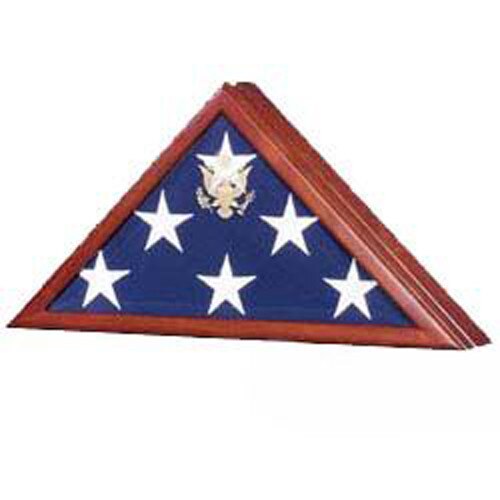 Military Flag Case With Great Seal
Details
Our Cherry finish Military flag case is embossed with the Great Seal of the Unites States on beveled glass. This military flag case with a cherry-finish is to be used with interment flags measuring 5'x9.5'. These flag cases are proudly made in America and ideal to house a funeral flag as a symbol of your loved one's service to the country.
For more information about the Cherry finish military flag case see the description tab below.
The military flag case with the embossed Great Seal is made of solid maple wood and is designed for a proud display of an interment flag. This case is fitted with a hinged lid that opens in front. This military flag case is also fitted with magnetic closure to keep the lid in place. The space between the lid and lower part of the case is covered with a dust seal to protect your flag from dust and other fine particles. The military case is completed with a solid wood back and measures 26" in length, 13" in height and 4 ¼" in depth.
See all of our Government specified American flags. Our range of American flags houses flags of all sizes, made of a variety of different fabrics. Our Beacon® nylon American flags and Patriarch® polyester American flags are customer favorites and offered exclusively by Carrot-Top industries. Browse through our range of military products as well. These products include military flags and Veterans items to represent or honor military departments. See our memorial products like the POW MIA flags, KIA flags or Wounded Warrior flags to honor fallen, missing, captured or injured soldiers.
*Flags sold separately.