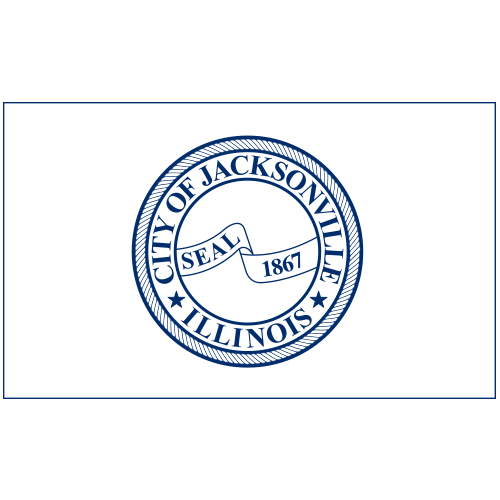 The current City Flag was adopted by City Council by Resolution #7587 on November 22, 1976. It was designed by Ray Groves who lived at 923 Doolin.The flag's design is a facsimile of the seal of the City of Jacksonville, imprinted in royal blue on a white background.
The new design was created as part of the United States Bicentennial and the Jacksonville Sesquicentennial.The United States Bicentennial was a series of celebrations and observances during the mid-1970's that paidTribute to the historical events leading up to the creation of the United States of America as an independentRepublic, its 200th anniversary, also called the American Revolution Bicentennial 1776-1976. Jacksonvillewas a Bicentennial community.
About Jacksonville, Illinois
Jacksonville held its Sesquicentennial events in 1975 under the Committee for the Bicentennial and the
Jacksonville Sesquicentennial…Committee members were: J. Chester Colton and Lawrence T. Oxley, Honorary Co-Chairman – Vernon R.Q. Fernandes, General Chairman – Robert E. Chipman, Secretary. Jacksonville's 150th birthday was April 26, 1975 (1825-1975) and its Bicentennial (200th) birthday will be April 26, 2025. This was in timing with the opening of the new Central Park Plaza (urban redevelopment).

There was a Time Capsule Ceremony on July 5, 1975 in the new Central Park Plaza to kick off the 200th year opening towards our Nation's Bicentennial in 1976 (July 4). The time capsule will be buried 50 years and opened in 2025 as part of Jacksonville's Bicentennial celebration.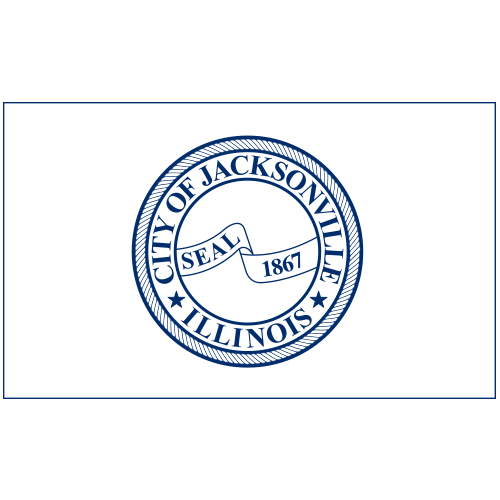 Carrot-Top Industries has been serving business and government since 1980. We are delighted to partner with the Jacksonville to offer
quality products that express pride in your city, state and our country.