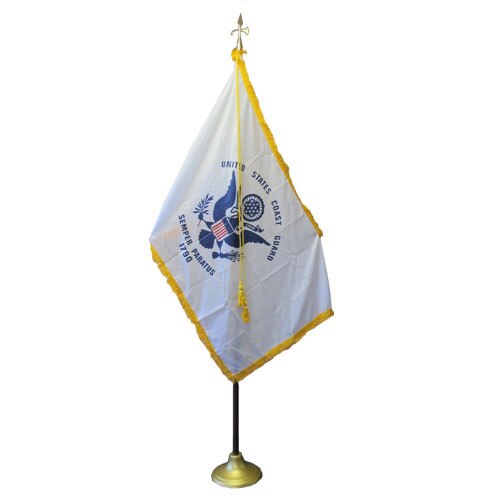 Brigadier™ Coast Guard Indoor Flag Set
Details
The Brigadier Coast Guard indoor flag set includes an indoor Coast Guard flag, an indoor flag pole and base, a flag pole topper and a cord and tassel set. These sets are ideal for graduations at military academies or other prestigious ceremonies.
The flag pole and flag included with the set can also be used in parades and color guard events when needed. For more information about the Coast Guard Indoor flag set see the description tab below the product selection options.
The Brigadier Coast Guard indoor flag set includes everything you will need for a polished, professional indoor flag display. The Indoor coast guard flag set comes with a 3'x5' nylon indoor Coast Guard flag with its official insignia, gold fringe and pole hem, a brass jointed oak flag pole, a brass battalion lance flag pole topper (also known as a battle axe), a 14lb gold finished flag pole base and a gold cord and tassel set that complements the gold fringe around the flag.
The Coast Guard indoor flag sets feature some of our premium products and are perfect for both indoor displays and for use as a parade flag. The flag pole stand is removable, allowing the flag, flag pole and ornament to be carried separately.
Carrot-Top offers a variety of Coast guard flags, including Coast Guard ensigns and outdoor Coast guard flags. We also offer other military branch flags. Browse through our other military and memorial products, including Veterans flags, Coast Guard grave markers and POW/MIA flags. We also carry a vast range of patriotic products, including outdoor American flags and Patriotic Street banners. For more information about our products or the Coast Guard indoor flag set please fill out our contact us form, and one of our experienced Flag Pros will reach out to you!