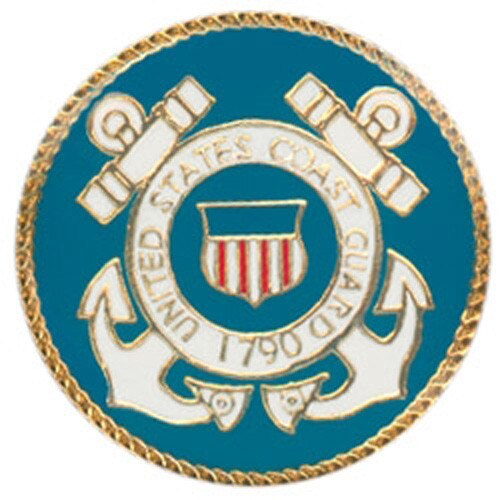 Details
The Coast Guard pins feature the official seal of the United States Coast Guard. These pins are perfectly designed high quality products ideal for any event. The seal of the U.S. Coast guard appears in full detail intricately etched on the face of the lapel pin.
The Coast Guard pins are available at discounts up to 45% when purchased in bulk. For more information see the description below.
The Coast Guard pins picture the official U.S Coast Guard seal which was adopted in December of 1966. The seal contains two anchors leaning at a 45 degree angle towards each other to make a cross formation in the center. At the intersection of the two crosses, centered on the lapel pin, is a white ring around a red white and blue shield. The words "UNITED STATES COAST GUARD" and the year 1790 are etched in gold lettering on the ring. The year 1790 signifies the birth year of the Revenue Marine which was later christened the U.S Coast Guard.
Our military lapel pins include many other pins ideal for celebrating the different branches of the U.S armed forces and soldiers who served in them. Browse through the military and memorial category for more military products including military flags, POW MIA flags, Veterans flags and grave markers to mark the final resting place of a Veteran or soldier killed in action. To show your national pride, display an American flag in an indoor or outdoor setting. We have everything you need for a complete flag display including flag poles and flag pole parts. For further information about our products please fill out our contact us form and one of our Customer Care Representatives will be in touch with you!