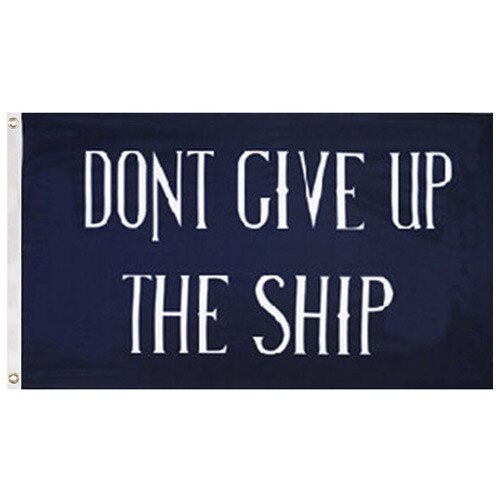 Details
Commodore Perry Flags are lasting symbols of America's will to endure and survive in its journey toward freedom and democracy. These beautiful flags are made with the highest quality materials and feature:
100% super strong, woven SolarMax® nylon
One convenient size, 3'x5'
Durable materials designed for long-term use
Heavy-duty canvas header and solid brass grommets
Made in the USA
Commodore Perry Flags are one of our nation's most popular historical Navy flags. The flag is the banner under which Commodore Oliver Hazard Perry fought at the Battle of Lake Erie. The spirited words on the banner are attributed to Captain James Lawrence who had spoken them as he lay dying on his ship in battle a few months earlier. Commodore Perry later raised the banner on his ship the USS Niagara.
Our Commodore Perry Flags measure 3'x5' and are finished with strong canvas header and solid brass grommets. Our nylon flags are built to last and showcase vibrant colors and reinforced stitched seams. Carrot-Top proudly supplies a broad array of American and American-Made products including flags and patriotic products. Our American flags include our exclusive flags the Patriarch® Polyester Flag and the Beacon® Nylon American flag. For more information about Commodore Perry Flags please fill out our contact us form and one of our Customer Care Representatives will be in touch with you!