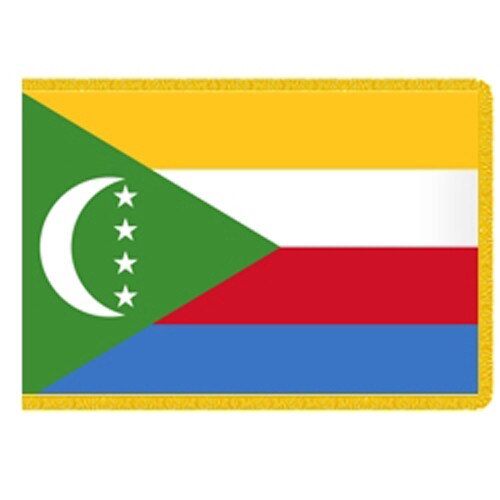 Details
The indoor Comoros flag is fitted with a gold fringe and is ideal for display in an official capacity.
Flags measure 3'x5'
Can accommodate all of our indoor flag poles
Flags are made of sleek nylon for extended life and vibrant colors
The indoor Comoros flag is ideal for an official flag display. These flags are made of nylon and feature the signature shiny finish of nylon flags. The finish accentuates the colors of the flag and the fitted gold fringe adds contrast to create a striking flag display. The indoor Comoros flags come with a lined pole sleeve which allows the flag to be attached to any indoor or parade flag pole.
The Indoor Comoros flag features the official design with its four horizontal stripes. The top most stripe is colored in yellow, then white, red and blue. These stripes are said to represent the islands of Comoros. The flag also features a superimposed green triangle with a white crescent moon and four five-pointed stars. The stars also represent the four islands while the moon is a widely accepted symbol for Islam, Comoros' majority faith.
For more Comoros flag options see the outdoor Comoros flag and the mini Comoros flag. The indoor flags can be easily paired with our indoor and parade flag poles for a polished and distinguished look. Browse our outdoor residential and commercial flagpoles as well. Carrot-Top proudly offers an unmatched collection of American flags, high quality Custom products and a wide range of property management items ideal for any location. For more about our products please fill out our contact us form today.