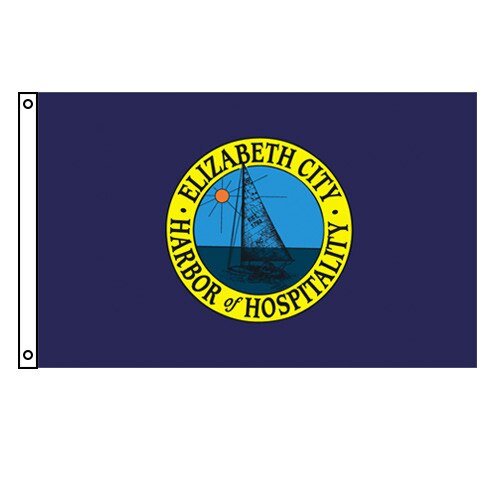 Details
Elizabeth City Flags are tailored with the finest materials and detailed, superior craftsmanship. These beautiful flags are built to last.
Elizabeth City Flags feature:
Finely crafted, superior 200 Denier nylon
Flags measure 3'x 5' and feature reinforced lock stitching
Single reverse imaging, fitted with a strong canvas heading and solid brass grommets
Digitally imprinted design
Tailored for extended outdoor use
Made in the U.S. A.
Our custom-made Elizabeth City flags show off your town spirit and pride with impeccable style and a grand look. These custom city banners display rich and robust colors and represent the area in splendid fashion. Our city and town flags are so lightweight they fly beautifully in the slightest breeze. The flag of Elizabeth City features the city's logo which was adopted in 1998 as the City's official seal. Incorporated in 1793 and originally named "Redding, the city's name was first changed to "Elizabeth Town" and then to Elizabeth City in 1801. Elizabeth City has often made the "100 Best Small Towns in America" list and is ranked by Money Magazine as "one of the best places to live on the East Coast". The coastal town is also the home to six major commands of the U.S. Coast Guard, as well as the Museum of the Albemarle, a 50,000 square foot facility on the City's waterfront that seeks to promote understanding of history and culture of the region. Elizabeth City's limitless southern charm has earned the city to title of "Harbor of Hospitality". Elizabeth City flags are not recommended for areas in a high wind environment. To gain greater knowledge about Elizabeth City or the history and design of its flag contact the City of Elizabeth City.
Carrot-Top fashions the finest flags in the industry including our American flags and our US State and City flags. Carrot-Top also provides flags of Major League Baseball flags and NFL team flags. Shop our NCAA college sports flags for banners from your favorite colleges and universities including UNC, Wake Forest, ECU and more. To get more details about our products and services please fill out our contact us form and one of our Customer Care Representatives will reach out to you promptly.