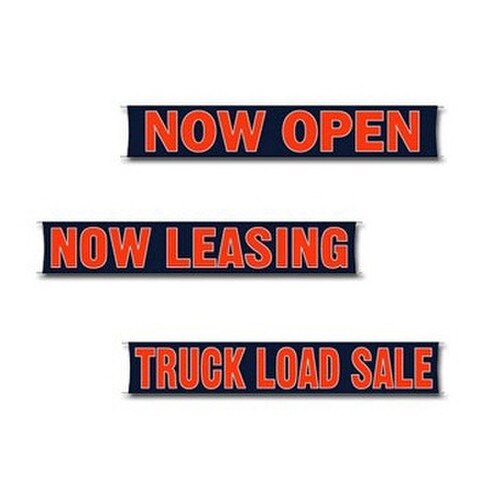 Extra Large Message Banners - 3'X20'
Details
Our extra-large message banners measure 3' in height and 20' in length, ideal for use in an open space, across a street or in a large indoor space.
These large message banners are available in three different variations. Pick up a truck load sale banner, Now Open banner or a Now Leasing banner. To read more about this product and its design see the description tab below the product options. To initiate an order select a message banner and click on the "add to cart" button.
LIMITED QUANTITY AVAILABLE
The extra-large message banners are a guaranteed way to attract attention. These banners are 20' long and boldly display their message. If not for size the vibrant colors of the banners are sure to attract potential customers. The message is printed in bright red on a dark blue background in large, block letters that are hard to miss. These banners are made for displays in both indoor and outdoor settings, they are not recommended in wet weather as colors may bleed when wet.
The extra-large message banners come fitted with two ropes sewn to the top and bottom of the banner. These ropes run the width of the flag and extend 5 feet outwards from the corner. The fitted rope allows for easy installation and no need for any other banner hardware. These 20 foot banner can be easily hung or attached to any surface for a full and proud display.
See all of our advertising banners to find one that fits your needs perfectly. Browse through our collection of advertising flags to find similar products including blade flags, message flags and more. Our custom products are also a great way to maximize exposure for your brand or business, see our custom flags, custom street banners and other similar products. Our custom items feature top quality graphic printing and are built to last. All Carrot-Top products are of the highest quality and we focus on providing customers with the best in the industry. See our American flags, available in large sizes, these jumbo flags are also a great way to attract people. For further details, please fill out our contact us form and one of our Customer Care Representatives will be in touch with you.