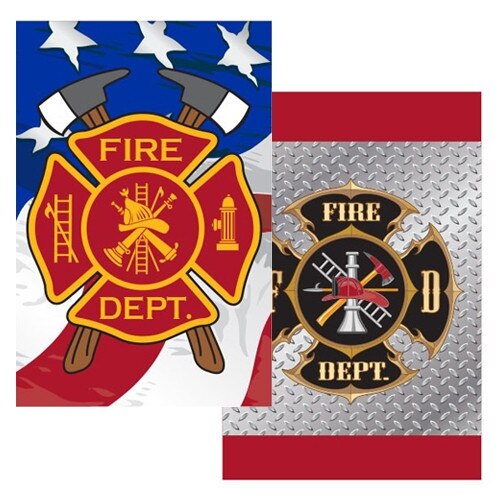 Fire Department Garden Flags
Details
Buy a fire department garden flag and show your support for your local fire department and its members. Available in two different styles, the garden flags are perfect for outdoor use. Each fire dept. garden flag is light weight with a vibrant printed design and can be placed outside your home, business or in memory at a cemetery or grave location.


These flags are designed to be used with our garden flag pole perfect for long term outdoor use. For more about these fire department garden flags see the description tab below.


The fire department garden flags measure 12" x 18" and made from 200 denier nylon. 200 denier nylon is one of the most versatile flag fabrics. This material is extremely light but durable and water resistant, ideal for permanent or long term displays in areas with moderate wind speeds. The flag is finished with a 1.5" flag pole sleeve across the 12" top in to which the horizontal part of our garden flag pole can be inserted. The flag is printed single reverse, meaning the image reads backwards on the opposite side, and features sewn edges to prevent fraying. The fire dept. garden flag is mildew and fade-resistant making for a long lasting product that doesn't deteriorate with time.


Carrot-Top offers a wide variety of civil service products including fire department flags for indoor and outdoor use, and fire fighter remembrance flags, police department flags. In addition to civil service flags we also have military flags and American flags. Our outdoor U.S flags consist of many high quality flags perfect for long term displays. See the Carrot-Top exclusive Beacon® nylon American flag and Patriarch® polyester American flags. These two products are our customers' favorites and are known to last longer than other nylon and polyester American flags. For further details, please fill out our contact us form and one of our Customer Care Representatives will be in touch with you.