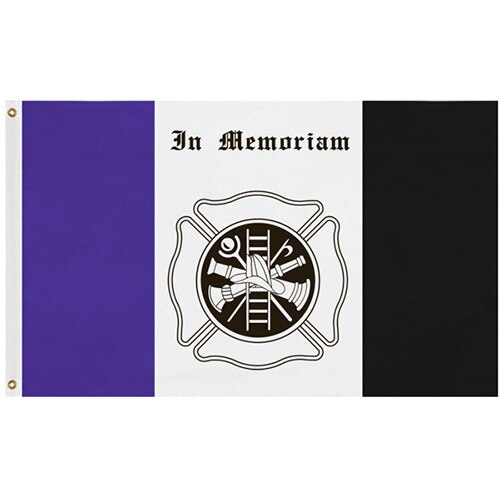 Firefighter Flag - Mourning Flag
Details
Fire fighter mourning flags are used to honor firefighters who have been killed in the line of duty. These flags are also used by fire departments to signify the loss of one of their colleagues, even when the death has occurred off duty.
Our firefighter mourning flags measure 3'x5'. They are built for outdoor use and 100% made in America. For more details about these flags see the description tab below.
Firefighter mourning flags are made up of three vertical stripes. The left stripe is purple, the middle one is white and the right stripe is black. On the center white stripe is a Maltese cross in black outline. In the center of the Maltese cross is a black circle with firefighting tools printed in white. The tools include a ladder, trumpets and a firefighter's helmet. Above the cross are the words "IN MEMORIAM" printed in black ink.
The firefighter mourning flag is made using 200 denier high quality nylon fabric perfect for outdoor use in moderate wind conditions and wet weather. Nylon flag material does not absorb water and dries quickly providing for a full unfurled flag display at most times. The firefighter mourning flag is fitted with a canvas header and grommets for use with outdoor flagpoles and halyard.
The firefighter mourning flag is similar to our firefighter remembrance flag. Other flags include fire department flags, thin red line flags, fire department cemetery flags and more. Our cemetery flags can be coupled with a grave marker for a great tribute. See our plastic fire department grave marker, bronze fire department grave marker and the aluminum fire department grave marker. Couple a civil service flag with an American flag for a patriotic flag display set. For more information please fill out our contact us form and one of our Customer Care Representatives will be in touch with you!