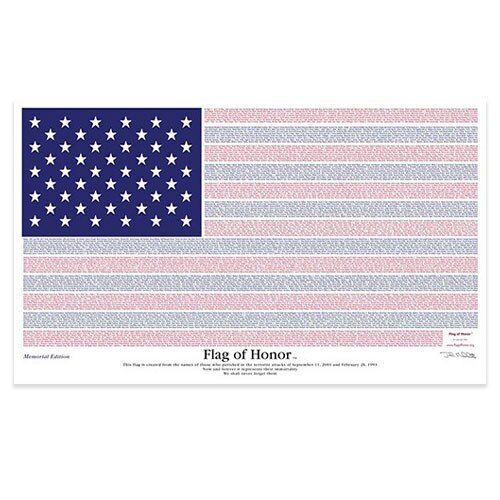 Details
The Flag of Honor was created to honor the victims of 9/11. The flag features the names of all who perished in the World Trade Center Towers, the Pentagon, United flights 175 and 93 and American flights 11 and 77.
The flag of honor is made using solid nylon and measures 3'x5'. These flags are shipped in a gift box with a commemorative poster. For more information see the description tab below.
The flag of Honor is the ultimate tribute flag designed to honor and remember all the people who lost their lives in the tragic events of September 11, 2001. The red and white stripes of Old Glory and made up by the names of the victims in fine print.
Carrot-Top takes pride in being able to offer a wide range of commemorative products including a variety of 911 remembrance products. See our large range of American flags to show your patriotic spirit as well. Fly your flag on one our outdoor flag poles, our exclusive Majestic™ Architectural and Commercial flagpoles come with a life time warranty. For more information please fill out our contact us form and one of our Customer Care Representatives will be in touch with you!