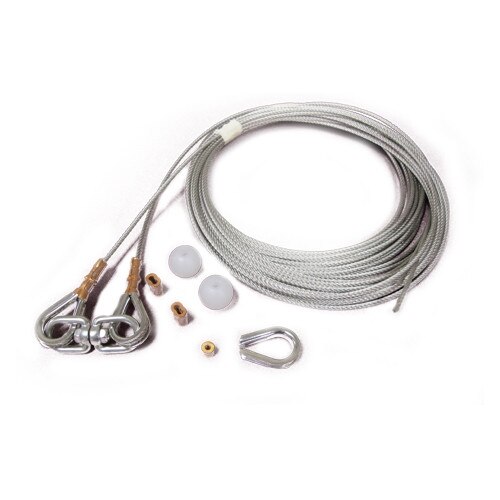 Flagpole Cable Kits For Excell™ Internal Halyard Flagpoles
Details
The Flagpole Cable Assembly Kits for Excell™ Internal Halyard Flagpoles is ideal for replacing and extending the life of your flagpole cable.
Available for internal halyard poles ranging from 25' to 80'
High-quality, stainless steel components provide a long-lasting core mechanism for your flag
All necessary components are include in one kit
Our Flagpole Cable Assembly Kits are available for our Excell™ Internal Halyard Flagpoles ranging in height from 25' to 80'. Ideal for replacing the cable inside your Excell™ internal flagpole, this kit also aids with prolonging the life of your flagpole cable. Fully stainless steel components provide added strength and durability to the inner workings of your flagpole display. For additional replacement parts and accessories, browse our Internal Halyard Components. For your external halyard commercial or residential flagpole needs, browse our Outdoor Flagpole Accessories. Ranging from lighting options to flagpole ornaments, we are sure to have everything to fit your flagpole needs.
Along with replacement parts, Carrot-Top Industries is proud to offer American-made United States, State and International flags. Available in a wide range of styles and materials, our Beacon® Nylon and Patriarch® Polyester American Flags are intended for outdoor use and offer the highest quality, top of the line construction. Available in both indoor styles and outdoors, we are guaranteed to have the flag to fit your needs. For more information, please fill out our contact us form and one of our Customer Care Representatives will reach out to you!