Solar lighting offers great advantages and big savings. Our solar lighting options include groundbreaking products which offer bright LED illuminations. We can help you decide which of our solar lighting products will work best for your display. Check out our flagpole lighting products or call 800-628-3524 to discuss your lighting options with one of our expert Customer Care Professionals.
Types of Solar Powered Flagpole Lights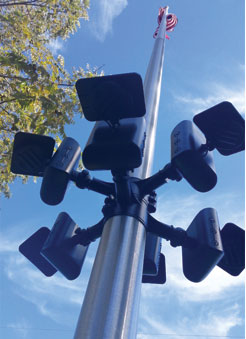 Outdoor solar lights are mounted on flagpoles and illuminate a flag and flagpole from an upward or downward position, depending on the unit selected.
This option is perfect for those who do not want to install a fixture at the base of the flagpole.

Lights are commonly attached halfway up the flagpole for upward lighting.

Place outdoor solar at the top of the flagpole for downward illumination.

Solar lights feature intensity LED lamps.
Installed at the base of the flagpole and features a fan-shaped light display.
Lights offer added security

Require no wiring

For residential outrigger poles only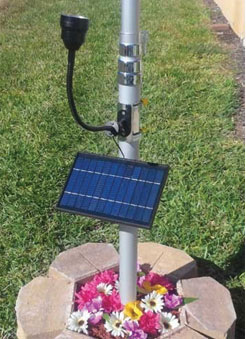 1) Budget
Solar powered landscape lights are both cost-effective and environmentally friendly.
2) Location
Solar lights will not effectively illuminate your flag and flagpole in shaded areas without strong, direct sunlight.
3) Environment
Level of illumination is dependent on available sunlight.
4) Installation
Solar lighting fixtures do not require a certified electrician for installation.
Place flagpole in the middle or at the top of the flagpole for best illuminations and to protect against unwanted tampering with light.

Optional hardware is available for flagpoles taller than 35'.
Carrot-Top's team of professionals is committed to providing our customers with superior products, thorough knowledge of each item, and advice acquired from over three decades of experience. For answers to questions regarding your specific location or for suggestions on which of our products will best suit your needs, call our Customer Care Department at 800-628-3524.

Have you found your American flag? Display it proudly on one of our flagpoles.
If you need a flagpole or flagpole accessories, you can click below to view our product selection.
If you need assistance with your flagpole purchase, we recommend filling out a Flagpole Request Call Back Form to help us better determine the best flagpole for you.
If you need immediate help with your flag, flagpole, or lighting purchase, you can call us at 800-628-3524.