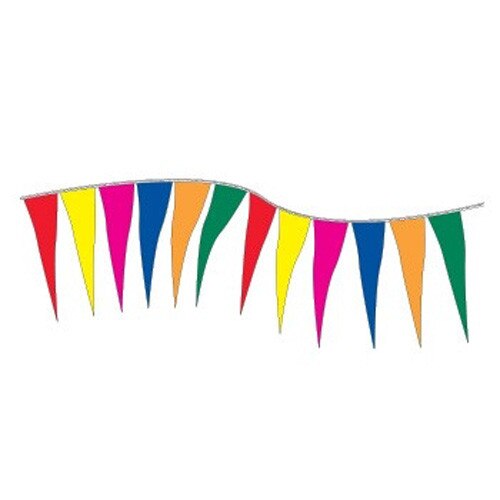 Slim Fluorescent Pennant Strings - Multi Colored
Details
Our slim fluorescent pennant strings feature multi colored pennant flags that are perfect for outdoor event of all kinds. The pennant strings are a perfect way to attract people walking by, increasing exposure for your event or business.
The slim fluorescent pennants are 6" wide at the base and provide a different look to the larger pennant flags. Select from a 50' or 100' long pennant string. For more information see the detailed description below. To order a pennant string enter the quantity desired and click on the "Add to cart" button below.
Our slim fluorescent pennants are perfect for use in outdoor markets, sale events, openings and a wide range of other occasions. These vibrant and striking fluorescent pennants are guaranteed to catch the eye of people passing by helping you establish a local presence. These pennant strings are made using durable plasticloth, a heavy duty pennant and banner material. The pennants can be used in all weather conditions. They are double-sewn and sag-resistant and are known to last for several months in continuous displays.
The 50' long slim pennant strings have 40 pennant flags each while the 100' ones 8 slim pennants. Each flag measures 6" in width and 18" in length. Pennants are colored in brilliant red, Saturn yellow, flame pink, deep blue, blaze orange and signal green. The colors alternate to create contrast and produce a striking display.
See our entire collection of pennant strings including regular sized fluorescent pennant strings, Colorfest pennant strings and more. Carrot-Top also offers custom pennant strings for personalized decorations and displays. In addition to these attention getting items we also carry many different variations of advertising flags, advertising banners and street banners. We also offer several different kinds of custom products including custom flags, banners and street banners. Large outdoor American flags are also ideal for road side business and events to attract people passing by. For further details, please fill out our contact us form and one of our Customer Care Representatives will be in touch with you.