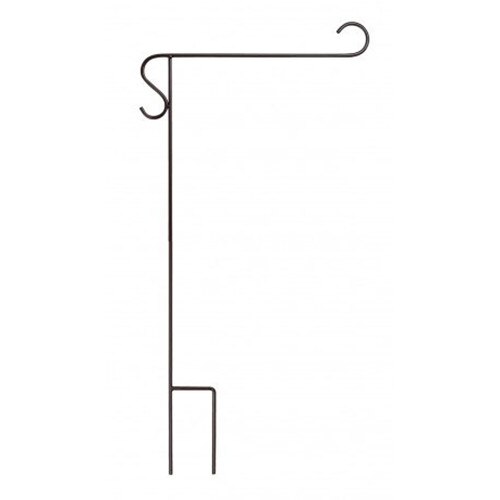 Details
Add some color and some spirit to your garden with our garden flag pole.
Designed for use with garden flags measuring 12"x18"
One-piece aluminum design, 17.25" wide and 30" tall
Made for long term outdoor use
Design allows for easy in-ground use and flag installation
Why buy a garden flagpole?
Sturdy aluminum design – Made for long term displays
The one-piece garden flag stand is made of aluminum, the ideal metal for outdoor flag displays. The stakes do not rust and can be used almost indefinitely. The one-piece design adds to the durability of the flagpole.
Easy installation and use
These large garden flag stakes can be used with most garden flags. They are ideal for use with any team flag, message flag and more. The pole features two prongs on the bottom allowing you to stick the pole in the ground with ease. The horizontal arm is 17" wide and has a hook end and stopper to keep your garden flag in place.
Browse through our American flags and flags and banners categories to find items to pair with our aluminum garden flag stand. For more information please fill out our contact us form and one of our customer care representatives will reach out to you!