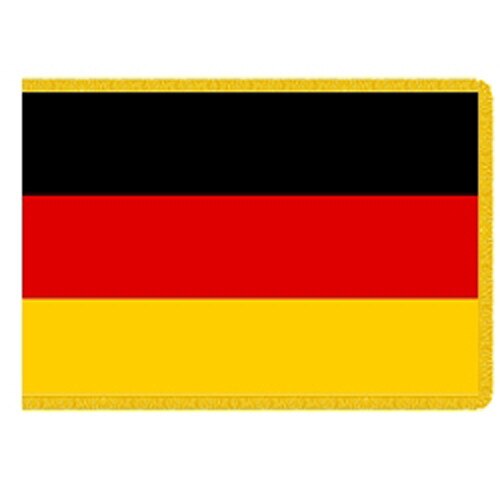 Details
Indoor Germany flags are fashioned with strong, beautifully woven nylon. These flags feature bold rich colors and exquisite, reinforced lock stitching. Indoor Germany flags have a strong canvas header and a lined pole sleeve along the left side. Plush, traditional fringe surrounds the three remaining side. For more information about our Indoor Germany flags see the description tab below.
Our Indoor Germany flags create beautiful displays in your home, office, school or church. Indoor flags are 3' x 5' and are best displayed with an 8' indoor or parade flagpole. Our Majestic® Telescopic Pole and our 8' Jointed Oak finish Pole are great options. The Jointed Oak finish ole is a two piece hardwood pole with brass features. The Majestic® Telescopic Pole adjusts from 5-9' and is easy to transport and assemble. Majestic® Poles have three finish option Gold, Chrome Aluminum and Wood-Grained.
Carrot Top has a long tradition of supplying patriotic, flag and custom items. Our flags are some of the finest flags obtainable and include our exclusive fabrics, the Patriarch® Polyester American flag and the Beacon® Nylon American flag. Carrot Top also fashions a number of custom items including street banners, signs, decals and mats. Our graphic artists are quite skilled in replicating and recreating your artwork and images onto any of our custom items. Consider pairing your Indoor Germany flag with Germany flag Lapel pin or Germany mini flags. For more information about our Indoor Germany flags or any Carrot Top item please fill out our contact us form today!