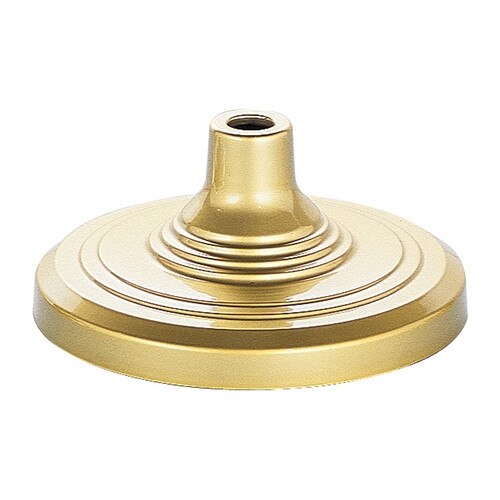 8 Lb Gilt Finish Flagpole Stand - Freedom
Details
Full Product Details of our 8 Lb Gilt Finish Flagpole Stand:


Our Gilt Finish Freedom Flagpole Stand has a matte gold finish that coordinates beautifully with most styles of indoor décor, making it a great indoor flagpole stand for use in courtrooms and lobbies. Add a touch of class and sophistication to your flag display with the Gilt Finish Freedom Flagpole Stand.


Indoor use
11 5/8" L x 5 1/2" H
Fits flagpoles up to 1 1/4" Diameter
8 Lbs.
ABS plastic exterior, sand and pellet interior
Gilt finish
Made in the U.S.A.


Why Buy the Gold Gilt Finish Freedom Flagpole Stand?


Upgrade your indoor flagpole stand with a sophisticated look! Weighing-in at a solid 8 lbs., the Gilt Finish Freedom Flagpole Stand from Carrot-Top Industries keeps indoor flags upright and stable with a touch of elegant style. The gilt (matte) gold finish on this indoor flagpole stand makes it a versatile option for offices, lobbies, courtrooms, churches, auditoriums, classrooms, and indoor public spaces in need of an attractive flag display. This indoor flag pole base is constructed of sturdy plastic and is filled with a weighty combination of sand and pellets to ensure stability.


Carrot-Top offers a wide variety of 1" to 1 1/4" diameter poles that are compatible with the Gilt Finish Freedom Flagpole Stand, as well as a robust catalog of American flags and flagpole accessories to complete your patriotic or custom flag display. We also offer outdoor and indoor flagpole stands in gold and silver chrome finishes; see our complete line of indoor flagpole stands for more high-quality, affordable and attractive indoor flag pole base options. Please note the Gilt Finish Freedom Flagpole Stand is not compatible with Guidon flagpoles.


Carrot-Top Industries: Your One-Stop Shop for All Your Flag Needs


When it comes to flag-related items, there's no better choice than Carrot-Top Industries. With our wide selection and unwavering commitment to quality, we provide the perfect products for displaying your patriotism and showcasing your pride. From flags and flagpoles to accessories and custom products, our offerings cater to individuals, businesses, and organizations alike. Whether you're seeking durability, aesthetics, or symbolism, Carrot-Top Industries ensures top-notch craftsmanship and exceptional customer service. For any questions, please fill out our contact us form, and one of our Flag Pros will reach out to you!