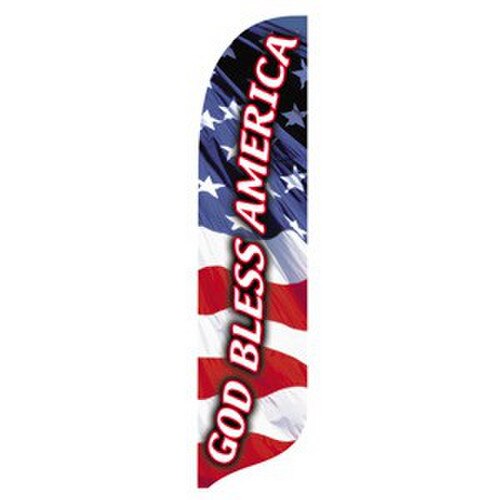 God Bless America Advertising Blade Flag
Details
Our God Bless America flag is one of our most popular blade flags. These beautiful Advertising flags display the words; 'God Bless America' atop the American flag's red and white stripes, and a blue canton and white stars. The God Bless America flag allows you to display your patriotism and advertise your business with a beautifully colored flag. 12' Adverting Pole and other accessories are also available. For more information about our God Bless America flag please see the description tab below.
Carrot Top's God Bless America flag is sure to catch every eye for miles and miles. Our God Bless America flag is one of the best advertising blade flags available. Standing 11' tall and 2' wide, these blade flags are digitally printed with a reverse image on the opposite side. Our blade flags are made of durable, long lasting 200 denier nylon and finished with a pole sleeve and grommet. Carrot Top also supplies flag pole sets including our 12' Advertising Blade Flag Pole. Add a twist to your display with our rotating ground spike for our blade flag pole set.
Carrot Top offers a broad range of patriotic products including American flag of various sizes and fabrics. Our exclusive Patriarch® polyester American flag and the Carrot Tops exclusive Beacon® nylon American flag are the best all-around and most versatile flags available. We also provide mini American flags, patriotic street banners and custom products to suit your needs. Our customer service representatives have over three decades of experience and are eager to assist you. Please fill out our contact us form and one of our Customer Care Representatives will reach out to you!