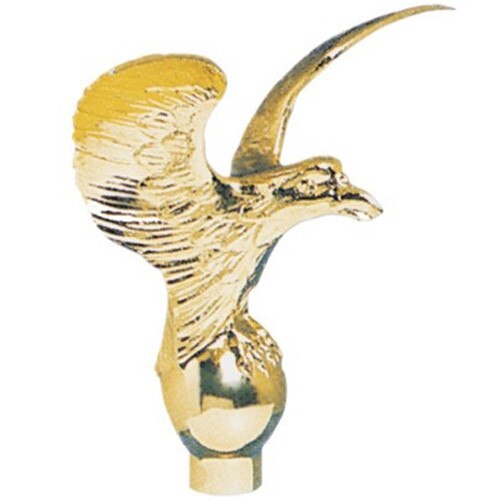 Gold Eagle Flagpole Ornament (Outdoor)
Details
Any outdoor flag display will look better with the finishing touch of a Gold Eagle Flagpole Ornament! These solid anodized aluminum eagle flagpole toppers feature a brilliant gold finish that will look great for years to come.
Choose from 8.5" or 12" wingspan
12" eagle is 8 ½" tall and will look great on a 25' flagpole
8.5" eagle is 7" tall and designed for a 20' flagpole
Fits onto a ½" threaded spindle
Shaft for flagpole eagle is 2 ¾" long
Proudly Made in U.S.A.
Why Buy a Gold Eagle Flagpole Ornament?
There's nothing like seeing an American flag on a flagpole that's topped by a flagpole eagle! This proud symbol of our country is solid aluminum that's anodized with a gold finish to stay looking great for years to come.
Carrot-Top's Gold Eagle Flagpole Ornament is available with an 8.5" or 12" wingspan, designed for 20' and 25' flagpoles (respectively). The eagle flagpole topper uses a threaded spindle for installation; its 2 ¾" shaft fits into a standard ½" threaded hole.
Note: while the anodized finish will never corrode or pit, a flag could possibly get tangled on the eagle's wingtips or edges and rip.
Questions? For further details, please fill out our contact us form and one of our Customer Care Representatives will be in touch with you.