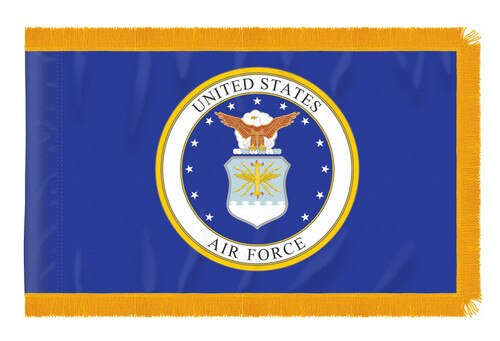 Details
Our indoor Air Force flags are perfect for a long term indoor display. These Air Force flags come digitally printed on a durable nylon and are available with or without a featured gold fringe that runs around the outside edge of the entire flag.
The indoor Air Force flags are built to be used with indoor and parade flag poles they are finished with a lined pole sleeve. The flags are available in two different sizes to fit your flag display. For more information about the indoor flags watch our informational video or read the description tab at the bottom of this page.
The indoor Air Force flags are tailor made for long term indoor displays in any conditions. These flags are most often used with our indoor flagpoles or indoor flagpole sets and can accommodate all of our indoor flagpoles. The indoor flagpoles are available as a 3'x5' flag or a 4'x6' flag. The 3'x5' flags are designed to be used with an 8' indoor pole with a diameter no larger than 1.25". The 4'x6' indoor Air Force flags are designed to be used with a 9' flagpole.
Both indoor flag poles are ideal for use with our Majestic™ Telescopic poles which can extend to either height. The Indoor Air Force flags featuring a gold rayon fringe around the entire flag for added flair and to make the flags stand out. Fringed Air Force flags are great for ceremonial use and special events. For further details, please fill out our contact us form and one of our Customer Care Representatives will be in touch with you.