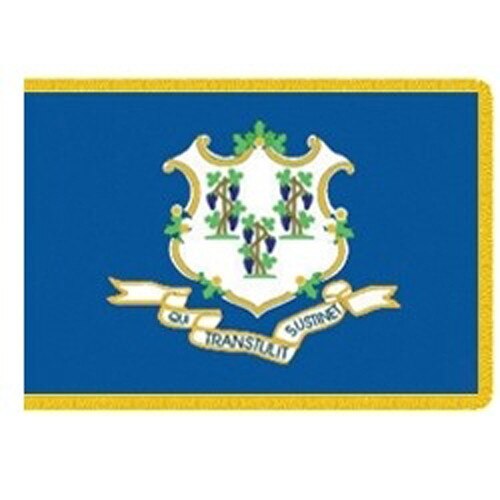 Details
Indoor Connecticut Flags are crafted with our exclusive Beacon® nylon and feature beautiful, bright colors and exquisite lock stitching. Carrot Top's indoor flags are designed to fit perfectly in your home, office, building or space. These Indoor Connecticut flags are available in two sizes. For more information about our Indoor Connecticut flags see the description tab below.
Indoor Connecticut flags are finished with a lined pole sleeve and plush, traditional gold fringe. Our size options include the 4'x6' Connecticut flag for use with a 9' indoor/parade flagpole or one of our Exclusive Majestic Telescopic Flagpoles. The 3'x5' Connecticut flag is designed for use with an 8' indoor/parade flagpole and is perfect to pair with one of our Majestic Telescopic Flagpoles.
Match your Connecticut flag with one of our many American flags. Our American flags are available in a variety of sizes and fabrics. Our Patriarch® polyester American flag, a Carrot Top exclusive fabric, is one of the strongest flags available for tough wind areas and extreme weather conditions. Our Beacon® nylon American flag, also a Carrot Top exclusive, is tailored for areas with moderate climates and milder winds. Carrot Top also provides flags of US Cities, mini Connecticut flags and mini American flags. Our team of customer service representatives has over three decades of experience and is eager to assist you in assessing the best fit for your locations. Carrot Top wants to make sure you create the classic display you desire.