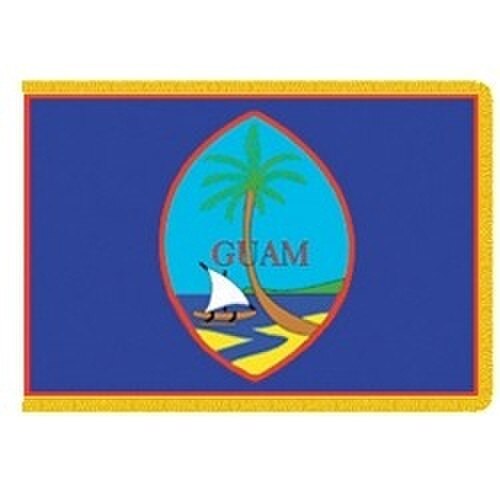 Details
Indoor Guam flags are made with our exclusive Beacon® nylon and feature exquisite stitching and beautiful bright colors. These flags are available in several sizes so that you may match your flagpole's height and the spatial dimensions needed for a beautiful display. For more information about our Indoor Guam flags see the description tab below.
Indoor Guam flags make classic displays in your home, office, school, church or preferred location. The flags feature a lined pole sleeve along the left side and plush, traditional gold fringe around the three remaining sides. Carrot Top offers two flags size options for indoor flags. The 3'x 5' Guam flag is best suited for an 8' indoor/parade flagpole or any of our exclusive 5-9' Majestic flagpoles. The 4'x 6' flag pairs best with a 9' indoor/parade flagpole as well as our Majestic flag pole.
Carrot Top proudly offers a broad range of patriotic, flag and custom products for residential, commercial and civic use. Our American flags are the most versatile flags available. The Patriarch® polyester American flag is one of the best all-around flags tailored to withstand extreme weather conditions and brutal winds. The Beacon® nylon American flag is designed for more moderate climates and regions with less harsh winds. Carrot Top also offers mini American flags, mini Guam flags and NCAA College Sports flag of College and Universities. For further details, please fill out our contact us form and one of our Customer Care Representatives will be in touch with you.