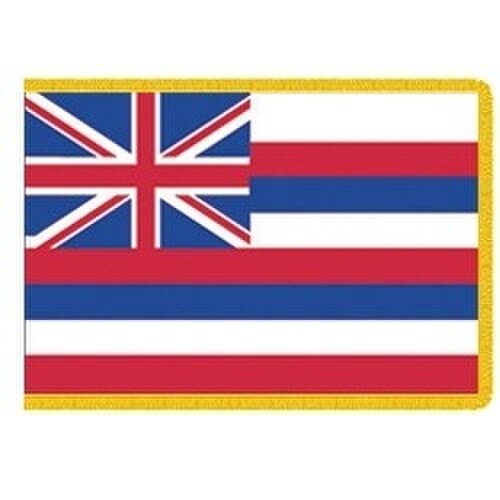 Details
Indoor Hawaii flags create beautiful indoor displays. Crafted with our exclusive Beacon® nylon, these flags feature beautiful, bold colors and exquisite stitching. Hawaii flags are available in a variety of sizes designed to fit your pole's height and create the display style you desire. For more information about our Indoor Hawaii flag see the description tab below.
Our Indoor Hawaii flags are perfect for parades and make great displays in classrooms, buildings, school, churches and homes. These Beacon® flags are constructed with extra tough tightly woven nylon, beautifully embroidered stars and intricately sewn stripes and seams. Sizes available include the 3'x 5' Hawaii flag and the 4'x 6' Hawaii flag. Indoor Hawaii flags feature a lined pole sleeve along the left side and plush, gold fringe around the remaining sides. Both flags pair perfectly with our exclusive Majestic Telescopic Flag pole. The 3'x 5' Hawaii flag matches best with at least an 8' indoor/parade flagpole while the 4'x6' Hawaii flag works best with at least a 9' indoor/ parade flagpole. Both flags are proudly made in the USA.
Carrot Top is a proud supplier of patriotic, flag and custom products for everything from one-time events to permanent displays. Our American flags are available in a variety of sizes and fabrics. The Patriarch® polyester American flag and the Beacon® nylon American flag are two of the most versatile and best all-around flags available. Carrot Top also provides mini American flag and mini Hawaii flags. For further details, please fill out our contact us form and one of our Customer Care Representatives will be in touch with you.