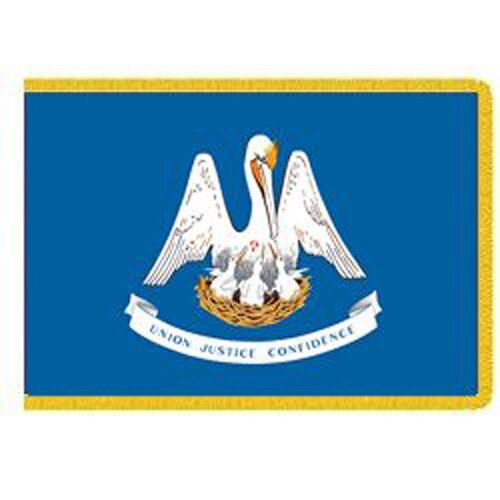 Details
Indoor Louisiana flags create classic and beautiful displays in your home, office, school, church or building. Crafted with our exclusive Beacon® nylon, these flags are strong and durable with lock stitching to prevent fraying. For more information about our Indoor Louisiana flags see the description tab below.
Indoor Louisiana flags are fashioned with rich, bold colors and intricately woven nylon and are finished with a lined pole sleeve along the left side. Plush, traditional gold fringe lines the remaining sides. These flags are available in two sizes 3' x 5' and 4' x 6'. Both sizes pair perfectly with our Majestic Telescopic Pole. The 3'x5' Louisiana flag may also be displayed with our 8' Jointed Oak finished pole while the 4'x 6' flag also creates a great presentation with our 9' Jointed Oak finished pole or any 9' indoor/ parade flagpole.
Carrot Top is proud to supply a patriotic, flag and custom items for onetime events, ongoing exhibitions and permanent displays. Our American flags are the finest flags available. The Patriarch® polyester American flag is built for harsh climates with severe winds while the Beacon® nylon American flag is tailored for more moderate climate zones with milder winds. Carrot Top provides flags of US Cities like New Orleans and many others. Show your support for the LSU Tigers with an NCAA College Sports flag or the New Orleans Saints with an NFL team flag. For further details, please fill out our contact us form and one of our Customer Care Representatives will be in touch with you.