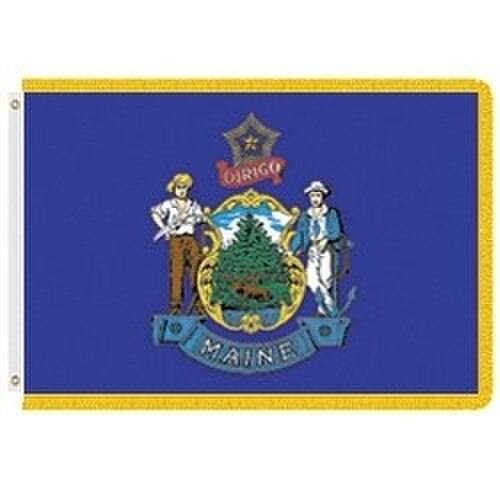 Details
Indoor Maine flags create the most beautiful and distinguished flag displays of the Maine state flag. Fashioned in our exclusive Beacon® Nylon, these flags showcase the Maine Coat of Arms on a blue field. Beacon® Maine flags feature intricate, reinforced stitching, and fade resistant colors and are available in two sizes so you may select the perfect Maine flag to fit your flagpole's height and display needs. For more information about our Indoor Maine flags see the description tab below.
Indoor Maine flag are crafted with exquisitely woven, durable nylon. These flags are finished with a lined pole sleeve along the left side and plush, traditional gold fringe around the three remaining sides. Beacon® Maine flag are available in two sizes, 3'x 5' and 4'x 6'. The 3' x 5' Maine flag pairs perfectly with any of our exclusive Majestic Telescopic Poles or with an 8' indoor/parade flagpole. The 4'x 6' Maine flag presents best with a 9' indoor/parade flagpole or any of our Majestic Telescopic flag pole.
Carrot Top's team of customer service representatives is committed to assisting customers and ensuring their satisfaction with all of our products. Our flags and custom products are crafted with the highest standards possible. Carrot Top supplies a full range of American flags in a variety of sizes and fabrics. The Patriarch® Polyester American flag is the best all-around flag available. These flags are built for extreme weather zones and harsh winds. Our Beacon® Nylon American flag is one of the most versatile flag available and is tailored for more moderate climate zones and regions with less severe winds.
Carrot Top's NFL team flags and our NCAA College Sports flags let you support New England's Patriots and the college and University of your choice. Consider displaying the flag of your favorite US Cities. For further details, please fill out our contact us form and one of our Customer Care Representatives will be in touch with you.