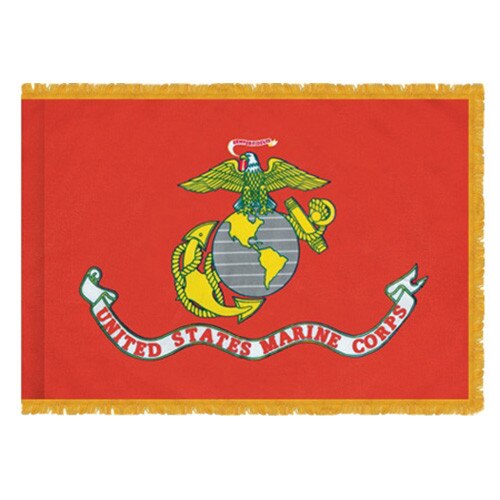 Indoor Marine Corps Flags
Details
Indoor Marine Corps flags are perfect for display in a home or office. These Marine Corps flags feature official colors and government specified graphics. Our indoor Marine Corps flags can be used with our indoor and parade flagpoles.
Our Indoor Marine Corps flags are made using nylon fabric and are designed for long term indoor use. The indoor flags are available in two sizes to fit your flagpole. For more about the Marine Corps flags watch our information video below or read the detailed description below.
The indoor Marine Corps flags are exactly like our outdoor flags in terms of quality and design. The Marine Corps insignia is printed on to the nylon fabric and features a fade-resistant build for long term use. Fringed Marine Corps flags are often used in indoor displays and color guard ceremonies or special occasions. The rayon fringes, although not required, have become a staple due to their vibrant and striking appearance. The yellow and scarlet of the Marine Corps flag is perfectly complimented by the gold fringe.
These flags are available in a standard 3'x5' or 4'x6' size. Both sizes of the indoor Marine Corps flag feature lined pole sleeves on the side without a fringe. The pole sleeves can accommodate a flagpole with a standard diameter of 1.25". These Marine Corps flags can be used with our solid oak poles and our aluminum Majestic™ Telescoping poles. For further details, please fill out our contact us form and one of our Customer Care Representatives will be in touch with you.