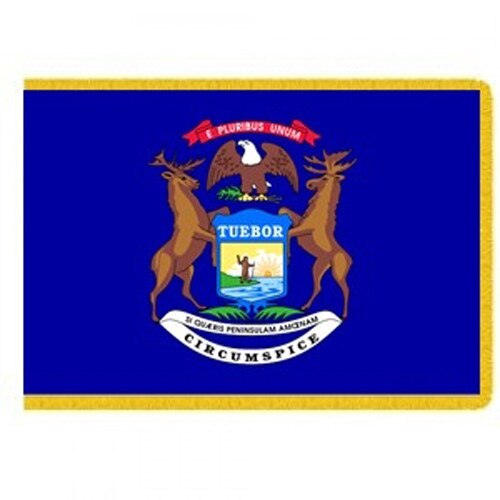 Details
Indoor Michigan flags create classic and distinguished displays for your home, office, church, building or school. These beautiful flags showcase the Michigan Coat of Arms in rich bold colors. Indoor flags are designed in our exclusive Beacon® Nylon and are finished with a lined pole sleeve along the left side and luxurious gold fringe around the three remaining sides. For more information about our Indoor Michigan flags see the description tab below.
Indoor Michigan flags are versatile flags which feature exquisite stitching and bright fade resistant colors. Indoor flags are made with strong, durable woven nylon that is lightweight and dries quickly. Sizes available include 3'x 5' and 4' x 6'. The 3' x 5' Michigan flag displays best with an 8' indoor/parade flagpole while the 4'x6' Michigan flag presents best with a 9' indoor/parade flagpole. Both flags pair perfectly with our exclusive Majestic Telescopic Flagpole.
Carrot Top strives to ensure that every customer creates the perfect display and is more than satisfied with every Carrot Top product. Our American flags meet the highest standards of quality and craftsmanship. The Beacon® nylon American flag and Patriarch® Polyester American flag are the best all weather and all-around flags obtainable. Carrot Top also features NCAA College Sports flag so that you may show your support for the Michigan Wolverines and NFL team flags so you may root for the Detroit Lions. Contact any member of customer service team regarding any of these items or questions about our wide variety of custom, flag and patriotic products.