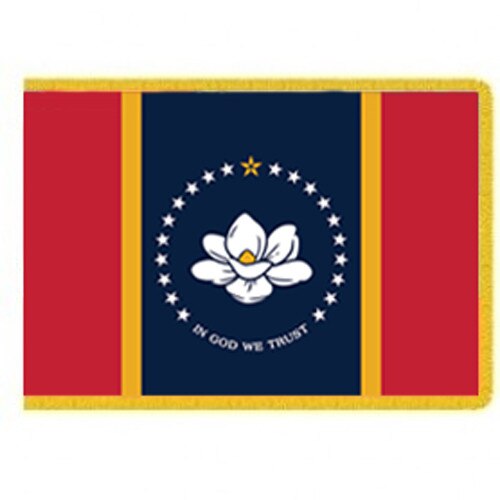 Details
PRE-ORDER YOUR FLAG NOW
***Note: As of June 30, 2020, Governor Tate Reeves signed into law that the existing Mississippi flag design must be removed from public buildings within 15 days and established a commission to design a replacement flag that would exclude the Confederate battle flag and include the motto "In God We Trust". On November 3, 2020, the state of Mississippi voted in a new flag design. We are working hard to get flags produced and will ship them out as close to the estimated ship date as possible.
Indoor Mississippi flags are made extra strong, beautifully woven, lightweight nylon. These flags are finished with a lined pole sleeve along the left side and plush, traditional gold fringe around the three remaining sides. Indoor Mississippi flags feature exquisite, reinforced stitching that prevents fraying and showcase fade-resistant colors.
Indoor Mississippi flags create classic indoor displays of the Mississippi State flag. Crafted in our exclusive Beacon® Nylon, Mississippi Flags are available in sizes 4' x6' and 3' x 5'. The 3'x5' Mississippi flag is ideally used with an 8' indoor/parade flagpole while the 4' x 6' flag pairs best with a 9' indoor/parade flag pole. Both flags display splendidly with our exclusive Majestic Telescopic Pole.
Carrot Top provides the highest quality flags, patriotic items and custom products. Our Patriarch® Polyester American flag and the Beacon® Nylon American flag are two of the finest flags available. Carrot Top provides a full range of American flags in various sizes and fabrics including mini American flags. Cheer on the Ole Miss Rebels, the Mississippi State Bulldogs and the Southern Miss Golden Eagles with an NCAA College sports flag or root for your favorite NFL team with an NFL team flag. Carrot Top also provides street banners, patriotic décor, and custom products such as floor mats, and tents. For further details, please fill out our contact us form and one of our Customer Care Representatives will be in touch with you.