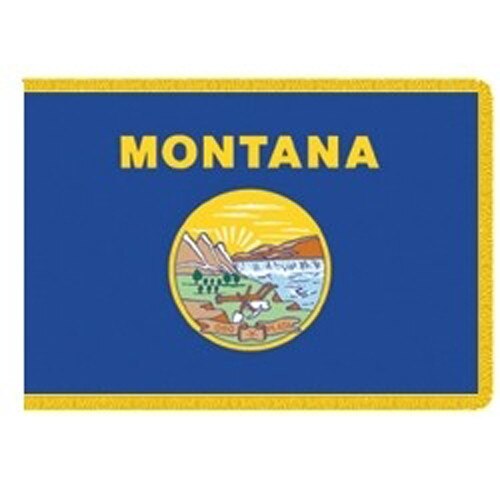 Details
Indoor Montana flags are crafted with beautifully strong, lightweight nylon and bright bold colors. These flags feature exquisite stitching that prevents fraying and showcase bold colors. Indoor flags are perfect for schools, home, offices buildings, parades and more. For more information about Indoor Montana flags see the description tab below.
Indoor Montana flags are finished with a lined pole sleeve along the left side and plush, gold fringe around the remaining sides. Indoor flags are available in two sizes 3'x 5' and 4' x 6'. The 3'x 5' Montana flag displays best with an 8' indoor/parade flagpole and the 4'x 6' Montana flag presents best with a 9' indoor/parade pole. Both flags pair perfectly with our exclusive Majestic® Telescopic Pole. Majestic® poles are easy to assemble and transport and are available in three finishes: Gold, Chrome and Wood-Grained.
Carrot Top is proud to extend its tradition of exceeding the needs of its customers with great service and superior products. Our flags and custom products are the finest available. The Patriarch® Polyester American flag and the Beacon® Nylon American flag are the best all-around and all-weather flags obtainable. Carrot Top also supplies flags of US Cities, NFL team flags and NCAA College sports flags. For further details, please fill out our contact us form and one of our Customer Care Representatives will be in touch with you.