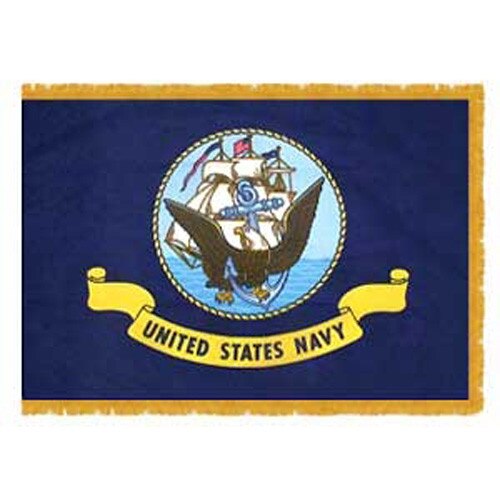 Details
Our indoor Navy flags are made of tough nylon and feature a pole sleeve for attachment. The indoor Navy flags are compatible with both parade and indoor flagpoles. All of our indoor Navy flags feature the official colors and insignia.
The indoor flags are available in several sizes and are available fitted with a gold rayon fringe, perfect for special occasions. For more information about the indoor Navy flags refer the description tab below.
Our indoor Navy flags are perfectly compatible with our parade and indoor flagpoles. All of the indoor flags feature a lined pole sleeve that accommodates flagpoles with a diameter of 1.25" (standard diameter for indoor flagpoles). To attach the flag to the pole simply slide it into the poles sleeve. Both fringed and unfringed Navy flags are great for display indoors. Fringed flags are often used in government buildings and military displays for a striking display.
These Navy flags are available in two different sizes; the 3'x5' flagpoles are perfect for use on 8' flagpoles and the larger 4'x6' flags are recommended for use with flagpoles measuring 9'. Both flags are compatible with our Majestic™ telescoping poles, these poles can be adjusted to a desired height for each flag.
For further details, please fill out our contact us form and one of our Customer Care Representatives will be in touch with you.