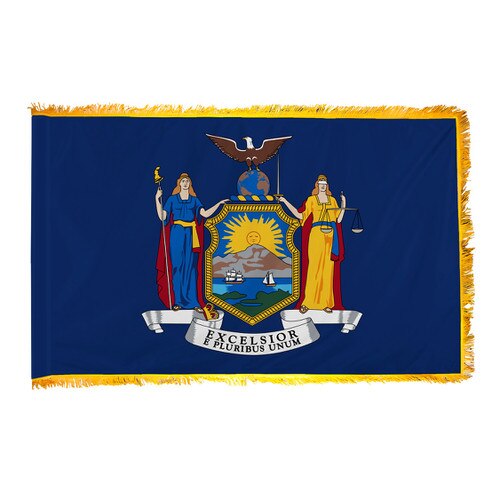 Details
Indoor New York flags are constructed with the highest quality materials and feature rich, bold colors. These flags are created with our exclusive Beacon® nylon and have exquisite, reinforced lock stitching and superior craftsmanship. Indoor flags are available in a size that is sure to match your flagpole and display needs. For more information about our Indoor New York flag see the description tab below.
Indoor New York flags are finished with a lined pole sleeve along the left side and lush, traditional gold fringe. Sizes available include the 3'x5' New York flag and the 4'x6' New York flag. Both flags perfectly match our Majestic® Telescopic Flagpole, another Carrot Top exclusive product. The 3'x5' New York flag also displays well with our 8' Jointed Oak-finish Pole and the 4'x6' New York flag requires a 9' Jointed Oak finish flagpole.
Carrot Top is provides magnificent flags and creates amazing custom products. Our American flags comprise a variety of sizes and fabrics include our exclusive brands, the Patriarch® Polyester American flag and the Beacon® Nylon American flag. Carrot Top also supplies flags of US cities including a New York City flag in addition to NFL team flags, NCAA College Sports flags, mini American and Mini New York flags. Our talent graphic artists are also skilled in crafting custom products such as street banners, decals, signs and other items. For further details, please fill out our contact us form and one of our Customer Care Representatives will be in touch with you.