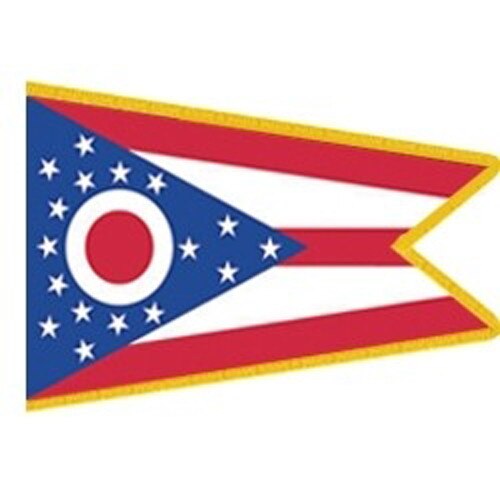 Details
Indoor Ohio flags are crafted in our exclusive Beacon® Nylon and create classic displays of the Ohio state flag. These flags are made with the highest quality materials and showcase bright bold colors and superior craftsmanship. These flags are available in two sizes. For more information about our Indoor Ohio flags see the description tab below.
Indoor Ohio flags are finished with a lined pole sleeve along the left side and traditional gold fringe around the three remaining sides. Size options include the 3'x 5' Ohio flag and the 4'x 6' Ohio flag. Our exclusive Majestic® Telescopic Pole, another Carrot Top exclusive brand, pairs well with both flags. The 3' x5' Ohio flag also displays well with our 8' Jointed Oak finished pole while the 4x6' flag perfectly matches with the 9' Jointed Oak finished pole.
Carrot Top is committed to providing the highest quality custom, flag and patriotic products. Our American flags are some of the finest flags available and include our exclusive brands, the Patriarch® Polyester American flag and the Beacon® Nylon American flag. Match your indoor Ohio flag with any of our US City flags like Cincinnati, Cleveland or Columbus. Carrot Top also has NFL team flags that will allow you to show big love for the Bengals, the Browns and your other favorite NFL teams or root for the Ohio State Buckeyes with our NCAA College Sports flag. For further details, please fill out our contact us form and one of our Customer Care Representatives will be in touch with you.